Silicon Valley South Asia Earthquake Fundraiser
By Ras H. Siddiqui

Waseem Baloch, Ann Opara, Athar Siddique, Bonnie Williams, Firdous Kamran
On Monday, October 17, 2005, the South Asian community of Silicon Valley held one of its many fundraisers to aid the victims of one of the worst calamities to hit that region in several years.
Employees of some of the major technology companies from this area gathered at the Napredak Hall in San Jose for a taste of Ramadan and to show solidarity with a cause that is sure to move a lot more people in the days to come. And to receive their donations, a number of relief organizations, namely the American Red Cross, Edhi International Foundation, Hidaya Foundation, Indian Muslim Relief Committee, Rahima Foundation and UNICEF, set up tables and furnished information to all who asked.
After Azan and the breaking of the Ramadan fast with dates and water, the Muslims present in the gathering offered evening prayers while the non-Muslims waited. A delicious Pakistani dinner followed, and proved to be a big hit with everyone both fasting and non-fasting.


Habibe Husain, Jitu Choudhary, Manzoor Ghori, Pasha Quadri, Sabahat Ashraf
Moderator Athar Siddique initiated the proceedings following a recitation from the Holy Qur'an and invited event host Pasha Quadri to address the gathering. Pasha gave us an overview of Silicon Valley companies that have already contributed large sums to the earthquake relief effort and/or are matching funds that their employees are contributing to a certain ceiling amount. Space constraints here do not allow a full list of contributors to be included, but needless to say the "Who's Who" of Silicon Valley was included. Pasha went on to elaborate the game plan here, both short- and long-term. "We need to build and rebuild," he said. "Our intent is to build a strong network of valley professionals," he added. People such as doctors, engineers and project managers were encouraged to assist in this work since it is going to be an ongoing effort.
On behalf of the relief organizations present Sister Habibe Husain from the local Bay area Rahima Foundation spoke first. She said that this Ramadan we are here with a heavy heart due to the earthquake tragedy. She gave a brief background of the Rahima Foundation and the very important work that it has been doing. Feeding the hungry during Ramadan and on other occasions has earned the organization a lot of respect locally. "The power of compassion can overcome every other power," she said. She proposed an "Adopt a Village" program for the earthquake impacted, and said that she was herself willing to go to Pakistan to implement it.

Hidaya Foundation desk

Rahima Foundation desk

American Red Cross desk
Waseem Baloch from the Hidaya Foundation spoke next. Bay area people recognize Hidaya as an organization to approach when there is a call to assist in any tragedy. "We are experiencing a strange situation. We are seeing our strengths and our weaknesses," said Waseem. "We are trying our best but we are not ready," he added. He also observed that we all live in an earthquake fault area here in the San Francisco Bay Area and asked how many of us have disaster preparedness kits in our homes? He said that the lack of planning was our biggest weakness and that was the reason that aid was not getting to earthquake victims in Pakistan quickly. Hidaya has already loaded four containers of supplies to be sent to Pakistan and is accepting more donations in both cash and in kind. He said that we should have a 1, 3 and 5 year goal now. Hidaya is proposing a "Donate a Tent and Save a Family" project for the victims of this earthquake.
Bonnie Williams, special events director for the American Red Cross, Santa Clara Valley Chapter ,said that the International Red Cross has been approached by the Red Crescent Organization and is mobilizing. She said that her organization does not take in-kind donations. "It is much more efficient and beneficial to the local economy of the area if we purchase there," she said. She added that the Red Cross is also involved in family-tracing services. Taking with this reporter earlier, she said that transportation of goods is slower and more expensive so monetary contributions go a lot further and help the regional economy too. Contributions to the Red Cross can be made online and certain companies will match that contribution on the presentation of a printed ARC receipt.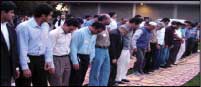 American Red Cross desk
Jitu Chaudhury from the Islamic Relief Organization explained that his group has three offices in Pakistan and is already on the scene. He said that two airlifts of supplies of medicinse have already taken place to Pakistan and a 3 million dollar purchase of tents is in the pipeline. Ten medical clinics are in operation and 2000 people a day are being treated. Islamic Relief is a truly international organization and is getting lot of contributions from our Muslim community in this area for its efforts.

Manzoor Ghori of the Indian Muslim Relief Committee said that the Indian side of Kashmir cannot be ignored and not enough information is coming out from there. He said that the IMRC was a 25-year old Bay Area organization whose first priority is to help orphan and disabled children. He added that IMRC was the only such organization working in Indian Kashmir and is allowed by the Indian Government to operate there. "People have not received help for the last several days (in Kashmir)," he said.
UNICEF, the United Nations Children's Fund needs little introduction as far as its presence and work are concerned. Ann Opara, representing UNICEF in Silicon Valley was very brief in her remarks. Since children are the highest impacted group in this earthquake tragedy, UNICEF has a huge role to play there.
And last but not least there is Edhi. Initially Bay Area tech writer Sabahat Ashraf whose earthquake net effort (http://pakistan.wikicities.com ) is truly commendable. He said a few words about Edhi and how to contact them.
The Edhi International Foundation was represented here by Mrs. Firdous Kamran. "Please remember Edhi when you donate. Edhi is a name you can trust," she said.
And with no marketing effort and no local setup, Maulana Sattar Edhi's and Bilquis Edhi's work speaks for itself as Pakistanis continue to write their checks to them. And if readers detect any bias here in favor of Edhi, this reporter stands guilty.
In closing and echoing the words of event moderator Athar Siddique, one need not add that this is the month of Ramadan, when the love of God and God's creations should remain in our thoughts. A huge tragedy has struck Pakistan and Kashmir. Please remember our unfortunate brethren in need during this Ramadan and Eid. Millions of homeless Pakistanis need your help. Please help them to bury their dead and to rebuild their lives.

-------------------------------------------------------------------------------------