Spreading the Message of Dialogue
By Jonathan Hayden
American University
Washington, DC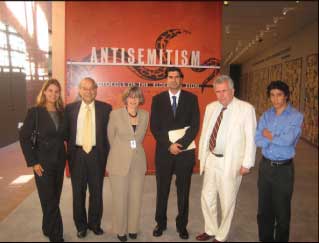 From left: Melody Fox, Akbar Ahmed, Sara Bloomfield, Umar Ahmed, Martin Bell, Camil Mekouar
On Thursday September 25, Dr. Akbar Ahmed was invited to address the senior staff, including Director Sara Bloomfield, at the United States Holocaust Memorial Museum in Washington, DC. He spoke to the packed room about contemporary anti-Semitism while encouraging all to participate in dialogue. Ahmed was joined by Martin Bell, famous BBC War Correspondent and Member of Parliament-turned ambassador for UNICEF. Also accompanying Ahmed was Camil Mekouar, son of Moroccan ambassador H.E. Aziz Mekouar, his son Umar Ahmed and Melody Fox, all involved in interfaith dialogue among young people.
The Holocaust Museum opened in 1993 as a memorial to the millions of people murdered during the Holocaust in Nazi Germany. The Museum is visited by approximately two million people annually. It also serves as an institution for education and is active in the advancement of understanding anti-Semitism and ethnic cleansing around the globe.
Bloomfield, the distinguished Director, who was accompanied by the Museum Chief of Staff, Director of Advanced Study, Director of Education and other staff members, introduced Ahmed by briefly telling the staff of his work in the area of interfaith dialogue and praised him for his "humanism and prior bridge building work".
Ahmed urged the meeting participants to spread the message of dialogue to promote understanding in order that we would never again experience the horrors of ethnic cleansing on the scale of the Holocaust. He noted that due to 9/11 "much hatred and prejudice was able to be disguised as patriotism". Emphasizing compassion between religions and races, Ahmed used the example of the similarities between Muslims and Jews to try to build bridges between the two religions. He said that the similarities between Judaism and Islam are "striking", adding "for a wise Mullah and a wise Rabbi to be in conflict is baffling".
He spoke of the story of Abraham and his sons Isaac and Ishmael "We are told that the Jews are descended from one son and the Muslims from the other and the descendants are battling each other". Ahmed continued, "The descendants of Isaac and Ishmael are exactly alike. If I love Abraham, I have to love his sons. It is important to remind both Muslims and Jews of this foundation. It changes everything. The story ends with Abraham bringing his sons together in reconciliation. Now the story of Abraham is full of hope".
Ahmed concluded by taking questions and finally advising the Museum to take a look at the broad picture and future for the Museum. He suggested seminars and classes in the Museum to people from different faiths. "I would like to see you create more than just a Museum. Make it an education for the world on how to prevent this from happening again".

-------------------------------------------------------------------------------------