Bringing Urdu, Punjabi and English Poetry Together
By Iftikhar Nasim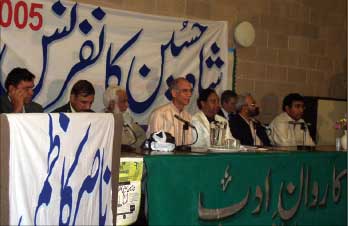 Left to right: Qayyum Tahir, Dr. Inam ul Haq Javaid, Dr. Riaz Majeed, Dr. Amanullah Khan, Iftikhar Nasim, Khlid Masood, and Sabir Raza
Karvan-e-Adab Manchester, England, has its yearly conference in July-August and, this year, it invited luminaries like Dr. Riaz Majeed, Murtaza Birlas , Dr.Inam Ul haq Javid, Agha Nisar, Majid Yazdani, Salim Akhtar , Iftikhar Nasim (Chicago), Khalid Masood Khan, Qayyum Tahir and of course Dr. Amanullah Khan (Dallas) to the annual congregation.
Karvan -e- Adab was celebrating the birth of the famous Punjabi Sufi poet Shah Hussain aka Madhu Lal Hussain. Sabir Raza, a famous poet and Punjabi novelist and president of Karvan-e-Adab, started the convention's proceedings. He was very appreciative of Shah Hussain's valuable literary contribution and spotlighted his influence on the Punjabi poetry.
Dr. Riaz Majid presented a paper on the technicalities and difficulties of the Punjabi language of the past and the present. Dr. Inam Ulhaq Javaid elaborated on his work on Shah Hussain. He has recently printed a book on the subject in Islamabad.
Presiding over the Conference, Dr. Amanullah Khan recited his English poem - Let Us Sing Peace. In the poem he stresses that peace among masses could be achieved if we follow the Sufi path shown by Shah Hussain. He received a standing ovation from the gathering. Iftikhar Nasim presented a paper in English on Madhu Lal Hussain's work. He talked at length about his poetry and the inspiration he got from Madhu Lal Hussain's love for God and humanity.
A trilingual Mushaira followed in which local poets presented their ghazals and nazams Dr Inam ul Huq Javed and Khalid Masood Khan recited their light-hearted, humorous poetry which had an enlivening influence on the proceedings. They were followed by Iftikhar Nasim who read his ghazals. Dr. Amanullah then read his poem about peace in English which was very much appreciated and admired, especially by the young audience born in England. It would not be wrong to say that Dr. Khan is becoming an icon of Punjabi language, both in England and the USA. His poetry has been translated in Gurumukhi and he has a big following in East Punjab also.
Then there was Mr. Murtaza Birlas who had to recite his poetry many times over at the request of the audience.
After the mushaira famous folk singer Reshma came to the stage. Reshma is admired by all age groups. Hussain Bakhsh Gullu, a famous classical and Sufi singer, electrified the audience with his performance. He was an instant hit.
The next evening Dr. Amanullah and the rest of the poets were invited by DM television and a Mushaira was recorded. This Mushaira was telecast all week.
The Touchstone Center at Bradford University invited Iftikhar Nasim to give a lecture on peace and the recent bombing in London and his talk was followed by a small poetry session. Dr. Amanullah Khan was invited by many organizations to participate in poetry sessions arranged in London, New Castle, Bradford, Birmingham, Oldham Nottingham and Glasgow.
Karvan-e-Adab has become an institution where not only the seasoned poets and writers from India, Pakistan and Europe are invited but where young and new writers also get respect and acclaim. Sabir Raza is gaining popularity and recognition in the Urdu and Punjabi literary circles. The recent conference was a huge success. Dr. Amanullah Khan's English poem brought a unique touch and also furnished a better perspective of a Muslim poet who believes in the finer values of humanity regardless of race, color, or creed. There is a serious talk going on to translate Dr. Khan's Punjabi poetry into English which will bring a new flavor in the genre of Punjabi and English literature.
Karvan-e-Adab Manchester England and Sabir Raza and his team deserve accolades for bringing Urdu, Punjabi and English literature together. Bravo Sabir.
-------------------------------------------------------------------------------------