'Syriana' to Receive 15th Annual MPAC Media Award on April 29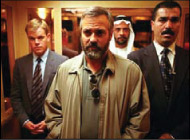 Los Angeles, CA: The Muslim Public Affairs announced today that Warner Brothers and the producers of the critically acclaimed film "Syriana" will receive MPAC's 15th Annual Media Award honoring during its annual gala dinner in Los Angeles on April 29, 2006.
"Syriana" Executive Producer Georgia Kacandes, who also a co-producer of "Girl, Interrupted" and "The Rainmaker", will receive the award on behalf of Warner Brothers Pictures. Other honorees being recognized as voices of courage and conscience this year include Warner Independent Pictures and Director Hany Abu-Assad for their Golden Globe winning film "Paradise Now", and Salman Ahmed, creator of the wildly popular South Asian music group "Junoon". Visit www.mpac.org to learn more about this year's honorees.
The recipient of vast critical acclaim, "Syriana" was hailed by the Associated Press as "a fiercely intelligent thriller. It weaves powerful moments of pathos, compassion, and cross-cultural insight into its lesson on the realities of greed in international commerce. Gaghan injects so much personality into his characters -- and the cast embody them so richly -- that a great deal of humanity shines through."
Starring Academy Award winner George Clooney, Matt Damon and Christopher Plummer, "Syriana" is a political thriller that unfolds against the intrigue of the global oil industry. From the players brokering back-room deals in Washington to the men toiling in the oilfields of the Persian Gulf, the film's multiple storylines weave together to illuminate the human consequences of the fierce pursuit of wealth and power.
In an effort to promote positive and accurate portrayals of Islam and Muslims, the Muslim Public Affairs Council each year recognizes voices of courage and conscience who are the best in their field. Since 1991, MPAC has honored artists, actors, authors, and activists for their artistic contributions to tolerance and diversity. Past recipients include Morgan Spurlock for the "30 Days" episode "Muslims and America", the Allah Made Me Funny Muslim Comedy Tour, Spike Lee, Karen Armstrong, Hakim Olajuwan, Yusuf Islam and the producers of VH1's "Behind the Music," Michael Moore, and Alec Baldwin.
To purchase your tickets for MPAC's 15th Annual Media Awards Dinner on April 29, 2006 at the Marriott Downtown Hotel in Los Angeles, call MPAC at (213) 383-3443 or purchase online at www.mpac.org. Tickets will not be sold at the door.



-------------------------------------------------------------------------------------