Pakistani-American Led Ballet Company Rekindles
San Francisco Earthquake Memory
By Ras H. Siddiqui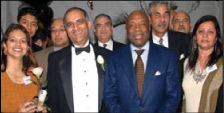 Ashraf Habibullah and Willie Brown with a group of Pakistani Americans
San Francisco, California is currently observing the Centennial of the devastating 7.9 earthquake that destroyed much of the city on April 18, 1906. And amongst the lineup of events that lead up to this 100 year anniversary was the April 5th performance of "Earthquake" at the Yerba Buena Center for the Arts Theatre by the Diablo Ballet of Walnut Creek.
Diablo is in all probability the only Pakistani-American headed Ballet Company in the United States. Its President Ashraf Habibullah is also President of Computers and Structures, Inc. or CSI (http://www.csiberkeley.com/), a premiere Hi-Tech Structural Engineering company headquartered in Berkeley. CSI has developed software that has been utilized by experts worldwide in the construction of mega projects including skyscrapers such as the Petronas Twin Towers in Malaysia (88 Floors), the Taipei 101 Tower in Taiwan (101 floors) and lately in the design of the Freedom Tower in New York (being constructed on the site of the World Trade Center).
The April 5th performance of "Earthquake" can be described as a true marriage between Technology and Art, both of which Ashraf takes quite seriously. He founded CSI in Berkeley in 1975 and the Diablo Ballet roughly 12 years ago.

Two groups of the audience
A CSI reception was held for a couple of hundred select guests before the public performance of the ballet. Ashraf certainly knows how to throw a party, a fact which any of his guests that attended this one can attest to. The décor, cuisine, music and flowers for the lady guests all added up at this glamorous the classy affair. The dessert table alone was a catering marvel. And the guest, including a contingent of Pakistani and Indian Americans, former San Francisco Mayor Willie Brown and a host of others added their own unique color to this event. Many ethnicities and religions were represented here, as this affair was not just about structures and ballet but an example of bridge-building between communities.
This gathering was in a way a celebration of 100 years of advances in Earthquake Engineering, of improvements in the building of earthquake resistant structures during the past century. It was also a time to reflect back on 1906 and even the last October 8, 2005 earthquake in Northern Pakistan which killed over 73000 people and left millions homeless. One sure wishes that today's technology had reached the builders of the structures impacted by both these disasters.

Ras Siddiqui and Farah Siddiqui
"Today, we have the technology to minimize the damage," said Ashraf at the reception. He said that great progress has been made in Earthquake Engineering and building since 1906 and that today if you have a powerful earthquake, only one person dies and that too of a heart attack. That was one reason, according to Ashraf, that the centennial of the 1906 Earthquake in San Francisco could now be termed a celebration of man's ability to survive devastation of this nature in the same city today. He asked for a round of applause for all the people who have helped to develop this technology.
Former San Francisco Mayor, Willie Brown helped to kick off the ballet event on a humorous note. He said that people need to believe that he was not an eye-witness to the earthquake that hit San Francisco in 1906. He also extended an invitation to all visitors. "Let me extend a San Francisco welcome to each and every one of you," he said. He reminded the audience that the Yerba Buena Center for the Arts Theatre was built to hold such events in the Earthquake Capital of the world and invited all to continue to visit San Francisco (and to spend their money here).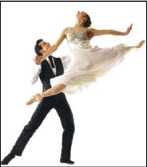 Performance by the Diablo Ballet
The ballet itself was split into three separate performances. The first or "PAS de QUATRE et PAS de SIX" featured a fine display of the physical strength and artistic direction. From a single dancer to a slow buildup to four, then again back to one, the segment perked a genuine interest in the viewer. The second performance or "OPUS FOR A TABLE" had segments that were nothing short of plain superb. The changing background colors, hypnotic music and the dancers' seeming defiance of gravity on stage made a plain old table the center of our conscious world for more than a moment. It was certainly a four-star performance here. And finally "Earthquake" (the ballet) with its increasing musical tempo, building up to a shaking peak and then subsiding. The gold costumes added to the presentation as did the expanding seismic signal in the stage background. "Earthquake" shook our musical tastes too, and provided a fine finish to this colorful performance that helped to celebrate San Francisco's history.
To conclude here, kudos to Computers and Structures, Inc., The East Bay Community Foundation's East Bay Fund for Artists, Global Imprints and Mr. Dipak Patel for commissioning the World Premiere of Earthquake. It was quite a nice addition to this centennial celebration in San Francisco, one that has attracted a great deal of attention. Ashraf has been giving a number of television interviews explaining the technology that has been developed by his company. Television viewers will surely be seeing him soon on NBC and other mainstream media outlets in the US. But in the meantime, while we in California certainly celebrate this development; admire the work that CSI has been doing, we still hope that we will not get the opportunity to test the limits of this new earthquake preparedness any time soon.

-------------------------------------------------------------------------------------