Moustapha Akkad to Be Honored during MPAC Media Awards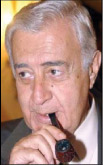 Los Angeles, CA: The Muslim Public Affairs Council has announced that it would honor the contributions of acclaimed Syrian-American filmmaker Moustapha Akkad during its 15th Annual Media Awards gala dinner in Los Angeles on April 29.
Akkad and his daughter Rima were among the more than 60 people killed as a result of the terrorist attacks in Amman, Jordon on November 9, 2005. Moustapha Akkad, both a producer and director, is well known among the Muslim community for his 1976 movie, "The Message," which tells the story of the early Muslim community as it was formed and developed in Arabia. Five years later, he directed and produced "Lion of the Desert," an epic film about a man who leads a rebellion against the Italians in Libya. In each of these movies, history was brought to life in a brilliant and exceptional manner. Akkad has also completed eight "Halloween" movies, and was working on the ninth before his death.
As an Arab Muslim, Moustapha Akkad overcame the difficulty of being a stereotyped minority in Hollywood and was able to achieve an unparalleled level of success as such. After graduating from UCLA with a degree in Theater Arts and working for MGM and the CBS TV News Department, he flourished on his own with the creation of several of his own production companies that produced his epic and thrilling movies. Akkad had a passion for cinema that, in fact, inspired one of his sons, Malik, to follow in his footsteps and become a filmmaker as well.
Moustapha Akkad is survived by his former wife, Patricia Akkad and their sons, Tarik and Malik, as well as his widow, Suha Ascha Akkad, and their son Zaid. Akkad's family will also be honored during this special tribute.
MPAC's 15th Annual Media Awards, which honors voices of courage and conscience, will be given to Warner Independent Pictures and Director Hany Abu-Assad for their Golden Globe winning film "Paradise Now", Warner Brothers Pictures for their widely acclaimed political thriller "Syriana", and Salman Ahmed, creator of the wildly popular South Asian music group "Junoon".
Since 1991, MPAC has honored artists, actors, authors, and activists for their artistic contributions to tolerance and diversity. Past recipients include Morgan Spurlock for the "30 Days" episode "Muslims and America", the Allah Made Me Funny Muslim Comedy Tour, Spike Lee, Karen Armstrong, Hakim Olajuwan, Yusuf Islam and the producers of VH1's "Behind the Music," Michael Moore, and Alec Baldwin.
Purchase your tickets online at http://www.mpac.org/media-awards.aspx or call (213) 383-3443 for more information. Tickets will not be sold at the door, says an MPAC announcement.

-------------------------------------------------------------------------------------