Sharing a Universal Message with Very Different Audiences
By Frankie Martin
Washington, DC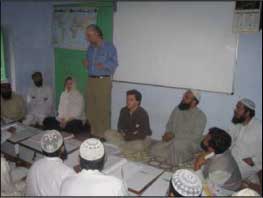 Dr. Akbar Ahmed speaks to an English class, the first of its kind in Deoband, with the author and Hailey Woldt looking on
This spring I was offered the opportunity by my favorite professor at American University in Washington, DC, Dr. Akbar Ahmed, to take a trip that changed my life. I traveled with Dr. Ahmed and his research team on the Middle East and South Asian sections of a trip conducted as a part of the Brookings Institution, Pew Forum, and American University sponsored project "Islam in the Age of Globalization." I was very aware after the attacks of 9/11 that it was more important than ever for Westerners to understand the Islamic world, and saw this project as an opportunity to change negative perceptions of Islam in the West and foster greater understanding between these two great world civilizations.
The project allowed me to travel to the Muslim world and speak to people about issues they were concerned about, including their interpretations of the Muslim faith, internal economic and political issues, and perceptions of the West. During the trip, I traveled to madrassas, mosques, and universities and spoke to many people including students, professionals, and politicians like Pakistan's president Pervez Musharraf. Throughout the journey, from the Middle East to Pakistan and India and on to Southeast Asia, Professor Ahmed and our team delivered a message of peace and understanding and encouraged inter-religious and intercultural dialogue as the only way forward for Muslims, Christians, and Jews to avert a seeming collision course.
The response to this message, as I witnessed personally, was universally very strong. Muslims of all ideological persuasions spoke to us after our talks, telling us of their joy that I and the other American student that accompanied me, Hailey Woldt, had come to their countries and communities to learn more about the Muslim world. In a time of such high tension, it was a relief for us that we had been welcomed so warmly in areas where we as Americans had been fearful to travel. Following a speech by Professor Ahmed in Islamabad, an old man, who said he had traveled a long way to reach the event, presented me with some papers he had written on interfaith dialogue and asked if there was anything he could do to help reach out to Christians and Jews. I had interactions like this constantly throughout the trip, many people asked us for suggestions as to how they could help bridge the gulf between Islam and the West; from engineering students at Jordanian universities to the religious scholars of Deoband, India.
The trip left me optimistic that relations between both the Western and Islamic worlds and Muslims and Jews, which at times seem so toxic, could be improved with human interaction and conversation. Upon our return to Washington, Professor Ahmed continued giving speeches, and when he invited me to attend a dialogue with Karen Armstrong in New York hosted by the US Council on Foreign Relations, an American think tank that publishes the magazine Foreign Affairs, I jumped at the chance. Ms. Armstrong, a prolific writer on religious affairs, has written many of my favorite books, so I was very excited to meet her. The speech was a sold out, standing room only event in New York filled with many journalists and American foreign policy makers in which both Professor Ahmed and Ms. Armstrong spoke of the necessity for the Western and Islamic worlds to better know and understand one another. It was certainly a different audience from the madrassas we addressed in India, for example, but the result was the same. Recognizing the importance of the message, we were again mobbed by people asking how they could help.
Last month Professor Ahmed became the first Muslim ever to address the Holocaust Museum in Washington DC in a sold out event attended by an overflow crowd of 500 that addressed the growing problems of anti-Semitism and anti-Americanism in the Islamic world. The event was attended by many prominent Muslims, including the president of ISNA and several ambassadors from Muslim countries. Dr. Ahmed's friend Rabbi Bruce Lustig, the head of the Washington Hebrew Congregation and son of a Holocaust survivor, was unable to attend but sent his regards in a letter read before the event began. Rabbi Lustig wrote that Professor Ahmed's voice is one of "moderation and reason which reminds us that God's teaching calls upon us to eradicate all prejudice, hated and bigotry. His unfaltering moral compass has led him to many nations to speak on behalf of religious tolerance and human dignity." Rabbi Lustig, along with Bishop John Chane of Washington's National Cathedral, has joined Professor Ahmed in many interfaith dialogue initiatives.
The event carried an important message of religious tolerance I knew was sorely needed. Despite the warm welcome our team received in the Muslim world, I was keenly aware of challenges that anti-Semitism, and also anti-Americanism posed to the kind of dialogue we, and most people we met, believed we needed to have. In his speech, Professor Ahmed spoke about the dangers posed by anti-Semitism and anti-Americanism and the need to use compassion to ensure that nothing like the Holocaust ever happened again. He also spoke out against "Islamophobia", the hatred of Muslims by Westerners, which had reached dangerous levels after 9/11.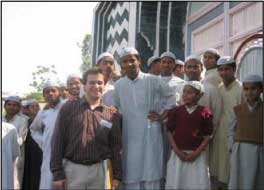 The author with a group of students at a Deoband mosque
This event, like the others, provoked a very positive response, with Professor Ahmed receiving a standing ovation at its conclusion. Inspired by the event, a Jewish woman about to depart for Israel told Professor Ahmed she was nearly moved to tears by the talk and asked if she could do anything to facilitate meetings with Palestinians in an effort to foster goodwill.
My experiences speaking in the Muslim world and here in the United States to Christians, Muslims, and Jews, have taught me much. In very different parts of the world, people responded in the exact same fashion when given the same message. People understand that there is far too much hatred between people of different faiths and cultures and want tensions to diminish. Almost everyone I spoke to on my trip to the Muslim world sought to reach out to the West, but hoped that in turn Westerners would reach out to them, a sentiment echoed by Americans here in the US. They seem to believe, as I do, that only with greater understanding and knowledge of the "other side" will our problems diminish. It is, after all, very difficult to understand the position of someone you don't know anything about.
I've repeatedly seen first hand what this kind of dialogue can do. At a madrassa in New Delhi I spoke to 200 young students who told me they prayed for insurgent attacks on American troops in Iraq, a statement which gave me pause. Given the political context of our discussion, would we be able to converse in a meaningful way? After a somewhat icy start, however, the students and I began speaking freely. I answered many of their questions about the role of Islam in the United States, responding that there were mosques in America and that Muslims could worship freely. By the end of the meeting I was mobbed by the students and signed quite a few autographs. I don't know if any political opinions were changed as a result of our dialogue, but at least the students got a chance to see a different side of the United States and learn from me, as I learned from them.
Despite the prevalence of serious political problems in the world, most people have rejected the path of death and destruction as the way forward. In this environment I am hopeful that more people can adopt the spirit of compassion and engage in greater dialogue with the "other side," whoever they may be. Only through sincere conversation, human interaction, and an open mind can we begin to strip away much of the hatred that so often threatens to overtake us. I feel privileged to have had the opportunity to accompany my professor to help bring this universal message to people in both the Islamic and Western worlds.


-------------------------------------------------------------------------------------