Congressman Jeff Flake Meets Asian Americans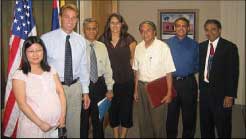 Congressman Jeff Flake with the Asian American group
Congressman Jeff Flake met with a group of Asian Americans and the Hispanic community activist to discuss the overall US immigration issues.
Among the participants was Mr. Arif Kazmi, president of Arizona Asian American Association; Mr. Roberto Reveles, president of "We are America"; Dr. Hui Chen, post-doctoral student at ASU; Mr. Omar Hamid, member HR Commission; Gilbert and Yousuf Bhuvad, a community volunteer.
Going around the table, the congressman and his staff listened intently to the personal experiences and stories of each of the attendees.
Congressman Jeff Flake responded by acknowledging the need for an overhaul of the US Immigration policy. He indicated that he was working with five other senators and congressmen in proposing a comprehensive solution to be put on the table by year end.
He thanked Arif Kazmi for his draft of suggestions and changes on this issue.

-------------------------------------------------------------------------------------