Pak Gymkhana Club Holds Inaugural Event in Fremont
By Ras H. Siddiqui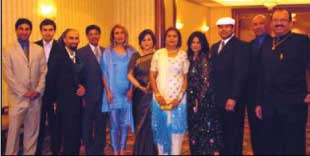 Gymkhana Club founders
The Pak American Gymkhana Club is now a welcome new addition to the Desi social scene in the San Francisco Bay Area after holding a successful inaugural event at the Marriott Hotel in Fremont on Friday, August 4, 2006. And as the Club Charter states: "We are the ambassadors from Pakistan asserting our right to bring forth our fair share of the historic legacy of "The Indian Continent." We seek to celebrate, with like minds, our immense cultural wealth and to increase awareness and appreciation for Pakistan's Rising Tide by showcasing its regional art and prolific talent.
According to the Founders: "We are a California based Non-Profit (Applied for), Non-Political culture-focused organization with a MISSION: To cater to the social and cultural exclusivity, and the communal and economic needs of the larger expatriate Pakistani (and regional origin) community. Our VISION is to bring and promote the outstanding achievements of fellow members of the community, recognizing meritorious services in key sectors like high-tech, charity, academics and entertainment."
It was not the number of attendees that were present which was impressive at this gala (over 200 people attended). This was an evening of fine food and entertainment, and will be remembered for its quality, reminiscent of the Gymkhana tradition that many of us left behind in Pakistan. Under the themes of "Bringing the Professionals Together for a night of mystic merrymaking," the evening featuring the diverse talents of "Zenergy" and "Natta Haotzima" along with the melodious voice of Bela Bhatt ( "Meri Her Khushi Tujh Pe Fida"). Belka helped Faakhir raise funds for South Asian Earthquake Relief earlier this year in the United States. And last but not least ghazal singer Asif Ali along with local tabla wonder Manesh Judge, whose talents were appreciated very much here.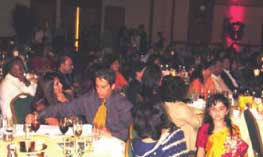 Gymkhana Club audience
Asif Ali (not to be mistaken with Qawwal Asif Ali Khan) happens to be a personal favorite. Just like emerging Indian ghazal singer Sudhir Narain, who was also performing his craft at another venue just a few miles away during the same evening, not too many people have yet had a chance to appreciate Asif's talents. He has an extraordinary voice but could learn a great deal more about marketing himself. His "Ab kay Saal Poonam" and "Darwaza Khula Rakho" are very well known. For those who really want to appreciate his voice "ILm Wo Fun Kay Deewanay" is superb. He spent the evening singing his own songs along with those of Jagjit Singh and if I recall correctly one from Ataullah Khan Isakhelvi. But if one can offer a word of advice or two, Asif Ali is for the serious ghazal connoisseur and not for the "Halla Gulla" crowd. The seriousness in his voice has to be matched by the seriousness of the listener. His closing "Insha Ji Utho" will be remembered here for quite some time.
Bela Bhatt
In closing the Gymkhana Club Charter states, "Another stated intention of this group is to highlight our richness in diversity by focusing on different regions at different events. This means that we will always be seeking to expand our offerings, and to bring in fresh, untried and whenever possible, independent talent. We hope to see you at our shows, which we intend to develop into a monthly staple of amazing and memorable events, always looked forward to with upbeat anticipation."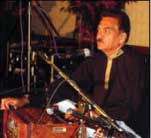 Asif Ali

As mentioned earlier, the Pak Gymkhana Club (http://www.gymkhanaclub.us/) is now a part of the San Francisco Bay Area social scene. It is an attempt by a group of people to indulge in some good, clean, fun while promoting the culture of 'Pak-o-Hind". And the fact that this club was locally launched around Independence Day is worthy of note. For more information please contact: Shiraz Jivani, Director of Entertainment: 510-816-3539
Anwer Siddiqui, Founding Member: 925-216-9678, Ahsan Sajjad, Founding Member, 408-482-5374 or Maryam Turab, President: 510-921-7914. Membership fees are high, but as with the Gymkhana tradition, they always have been.


-------------------------------------------------------------------------------------