Friends of Pakistan Holds Northern California Inaugural
By Ras H. Siddiqui

From left: FOP President Sarfaraz Khan and Rising Leaders from Northern California
The Friends of Pakistan, USA organization held its Northern California inaugural event at the Mehran Restaurant in Newark, California on Friday, December 1, 2006. A cultural-friendship grouping of this nature, which invites participants from all ethnic, religious and national backgrounds, took a long time in the making, but since its inception in January this year in Southern California , this effort has been making a stir in the South Asian community in our golden state. It was noteworthy that a number of Indians were present at this kickoff here in the San Francisco Bay Area in a rekindling of old relationships which always somehow succeed in coming together where good food and quality entertainment are involved.
The evening began with a delicious dinner and the formalities started off when host Shahab Siddiqui invited a youngster for a recitation of the Qur'an. Shahab subsequently started the proceedings with a combination of humor and poetry and thanked Fiaz and the other restaurant personnel for their support. He also took the opportunity to introduce Sarfaraz Khan, the Friends of Pakistan President and invited him to address the gathering.

From left: Tarannum Naz, Anisha Bakshi and Tahir Hussain
In his speech Sarfaraz said that he believed in work, and that if one worked hard, he/she would succeed. He then introduced the concept or vision of Friends of Pakistan (FOP) and explained how important it was for our Pakistani-American community to engage in outreach work to counter the negative image that Pakistan has frequently acquired in the post- 9/11 world.
He explained that the past experiences of Jews, Germans and Japanese Americans in this country (who eventually overcame adversity) should be kept in mind as we look at both the present and the future of our community here. "We need friends now more than ever before," he said. "Dost hi Dost kay Kaam aata Hai (good friends do help their friends)," he continued. He said that the FOP vision was of a community-based, non-profit organization whose main objective was to provide a platform to Pakistani-Americans and to engage in cooperation through the arts and especially through business with other communities. "We need to improve Pakistan 's image," he said. "We are being labeled all kinds of things," he added.
Sarfaraz Khan also went into some details of the proposed logistics for the FOP and said that he envisioned 100 operating chapters of the organization in the near future in this country. He also chronicled the events that the FOP has held thus far which generated a great deal of community interest including a South Asian Earthquake Fundraiser and Pakistan's Independence Day Celebrations in the Los Angeles area that attracted more than 15000 people. Sarfaraz said that by late 2008 he hoped that the FOP would have 50,000 members across the US. He continually hinted that bridge-building with other communities was the need of the hour, and the fact that he is a Civil Engineer (from NED University, Karachi ) and runs a successful construction company, is proof that he knows about building such structures.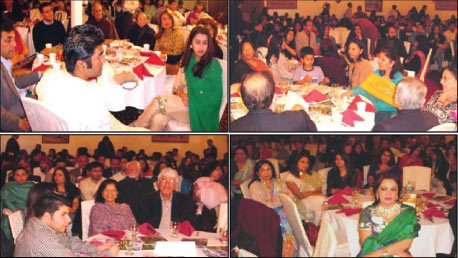 Pictures above: FOP supporters who turned up in large numbers to attend the inaugural ceremony
Concluding his presentation, the "Rising Leaders" of the Friends of Pakistan in Northern California were introduced by Mr. Khan. They are Shahab Siddiqui (for Fremont/Newark), Samina Khan (for Livermore, Pleasanton, San Ramon), Asma Hamdani (for Pinole, Berkeley, San Francisco), Zahid Saif and Nasir Bashir (for Concord, Pittsburg, Walnut Creek, Lafayette, Martinez, Orinda), Zeeshan Ansari (Antioch) and Malik Younus Awan (Sacramento). Pakistan Link wishes the group members well for their future success.
And last but not least, the entertainment part of the program arrived. Anisha Bakshi was the opening act. Anisha along with another lady of Indian origin by the name of Alka Bhatnagar are now almost permanent fixtures at Pakistani programs in Northern California and we have become their followers. Not only do they sing their own Indian songs but they have worked hard at incorporating Pakistani hits into their vocal act. And this evening was once again proof that Anisha has perfected her craft as she opened with a song immortalized by Mohtarma Iqbal Bano "Ulfat ki Nayi Manzil Ko Chala…" and followed up with two very spiritual numbers including "Ali Maula."
Southern California's Pakistani resident Tahir Hussain who has won awards in the US for his rendition of Indian great Mohd. Rafi's songs next took us down memory lane with songs from the Golden Age of Pakistani Cinema such as "Haan Isi Mor Par" plus "Kabhi To Tum Ko Yaad Aaye Gae," and of course "Akaylay Na Jaana". One could almost sense the presence of the late Waheed Murad (in the movie Armaan) and the thankfully very much alive Nadeem (from the movie Chakori which originated in what is today's Bangladesh) on stage at this gathering.
And last but not least Taranum Naz appeared on stage. She is the one and only true student/disciple of one of the greatest voices to grace South Asia, Madam Noor Jahan (If one is not sure of that tribute they are welcome to ask India's Lata). We were certainly honored to have Pakistan's "Pride of Performance" winner Taranum Naz who continues the tradition of her teacher the late Malka-e-Taranum to eerie perfection. And as Tarannum started off with the late Melody Queen's "Chandni Raatain" (Moonlit Nights) many memories of old romances were rekindled in the room. And when she followed with Faiz Ahmad Faiz's classic which this writer still considers the finest song ever sung in the Urdu language, one was inclined to hope that Taranum Naz was not embarrassed by many in the room who sang along with her. She duplicated that immortal classic with the near perfection of her teacher.
"Mein Jab Tak Gaon Gi, Jab Tak Aap Log Sunain Gae" (I will sing as long as you will want me to), Naz had said when she started, and she kept up with that promise. She capped a superb musical evening here in both Urdu and Punjabi, from the classics "Awaaz Dey Kahaan Hai" to "Sanu Nehr Waalay Pul Tay Bula Kay" and numerous other songs.
In conclusion one wishes this Friends of Pakistan the best in pursuit of its goals. Pakistan means many things to a number of people, but it is primarily a country of origin that we Pakistan-Americans love. And where there is love there is always room for friendship. (Report on the FOP function in Southern California held on December 2 in Bellflower will appear in Pakistan Link next week)
-------------------------------------------------------------------------------------