Muslim Leaders to Be Honored at MPAC Convention on Dec. 16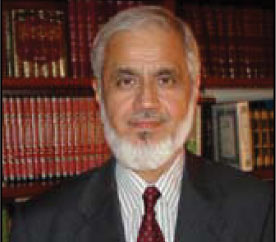 Dr Muzammil Siddiqi
Los Angeles, CA: The Muslim Public Affairs Council has announced that it will present awards to two American Muslim imams who have been publicly recognized this year for their contributions to American civic life during the sixth annual MPAC convention on December 16 in Long Beach, Calif. Dr. Muzammil Siddiqi and Imam Abdul Karim Hasan will be honored during the banquet, at which Bosnian Grand Mufti Mustafa Ceric and UK independent journalist Robert Fisk will serve as keynote speakers.
Chairman of the Fiqh Council of North America and past president of the Islamic Society of North America (ISNA), Siddiqi was named one of "The West 100" by Los Angeles Times "West" magazine this year. Last month, the city of Los Angeles honored Imam Abdul Karim Hasan, president and co-founder of the Bilal Islamic Center in Los Angeles, when a public square in the South Los Angeles community the mosque serves was named after him.
The day-long convention will bring together a prestigious group of academic leaders, policymakers, religious leaders, and civil rights advocates to discuss the theme of "Reform, Renewal and Relevance: Understanding Islam for the Future".
Confirmed speakers include (in alphabetical order):
• Dr. Asma Afsaruddin (Professor, University of Notre Dame)
• Dr. Nayyer Ali (Co-author, "In Pursuit of Justice: The Jurisprudence of Human Rights in Islam")
• AJ Durrani (Houston Muslim election activist)
• Amy Goodman (Author, "The Exception to the Rulers" and Host of Pacifica Radio's "Democracy Now!")
• Dr. Hassan Hathout (Author, "Reading the Muslim Mind")
• Nagwa Ibrahim (Co-founder of Elev8 youth arts & leadership program)
• Dr. Sherman Jackson (Author, "Islam and the Blackamerican" and Professor, University of Michigan)
• Dr. Muqtedar Khan (Professor, University of Delaware and Fellow, Brookings Institute)
• Peter Kovach (State Department Diplomat-in-Resident at UCLA)
• Dr. Hamid Mavani (Professor, Claremont Graduate University)
• Dr. Asifa Quraishi (Professor, University of Wisconsin Law School)
• Carmen Walker (Deputy Officer for Equal Employment Opportunity Programs, Department of Homeland Security Office for Civil Rights and Civil Liberties)
Adult tickets are available for $35/convention, $45/banquet or $65/both. Student tickets are available for $20/convention, $20/banquet or $30/both. Purchase your tickets now online at www.mpac.org/convention. Discount rates at the Hyatt Long Beach Hotel are also available for convention attendees (mention MPAC when booking to qualify for $109/night room rate).
-------------------------------------------------------------------------------------