Sir Syed Day Banquet & Mushaira in Northern California

By Ras H. Siddiqui

Left to right: Abidullah Ghazi, Amtul Suhail, Abdul Qayyum, Hamida Banu and Jazib Qureishi
The Aligarh Muslim University Alumni Association of Northern California held its Annual Sir Syed Day Banquet and Mushiara (poetry recital) at the Mehran Restaurant in Newark, California on December 16. While keeping this tradition alive, the people who have had the privilege of having graduated from this prestigious university located in Northern India, paid rich tributes to a great Muslim educator of the 19th century, Sir Syed Ahmad Khan, along with a Tehzeeb (culture) which has become associated with the center of learning that he founded.
And once again, the San Francisco Bay Area Pakistani-Indian "Aligarians" (as they are called) along with those from the Central Valley region, gathered in an environment of fine food, poetic Urdu and an unmistakable philosophical discourse on the role of Urdu and Muslims in the world today.
The evening started with Mughlai Cuisine in the form of a buffet dinner. The formal program as always in the Aligarh tradition started off with a recitation from the Holy Qur'an which was presented by Afzal Saeed Khan. AMU Alumni activist Ms. Shahla Khan was emcee for the program. She stressed the need to keep the Aligarh tradition alive and spoke about what needs to be done to achieve AMU Alumni goals. She also invited local AMU President Ms. Amtul Suhail to speak.


Left to right: Manzar Bhopali, Popular Meeruthi, Khushbir Singh, Rehana Roohi and Parvin Shere
Ms. Amtul Suhail has made many speeches at AMU Alumni events over the years, but the one delivered at this gathering had to be her most touching and emotional one to date.
Amtul's father was also an Aligarh graduate and his loss earlier this year was one focal point of her speech. She said that her father gave her a message before their parting that was not just for her but the entire Aligarh community. Tearfully sharing her father's hopes for the community, Amtul said that we need to continue to strive to keep AMU and Sir Syed's vision alive. She also stressed the need to promote the AMU Alumni scholarship program to help disadvantaged kids to get an education (please visit www.amualumni.com for more details).

Left to right: George Gohar, Aifra Ahmed, Afzal Khan, Hitten Verma and Kiran Rizvi
Ms. Hamida Banu who is an icon of the Urdu language in the San Francisco Bay Area and very active in promoting the language via the local ICC, next presented a delightful speech on the language. Her presentation was enhanced by the presence of two young people who learned or improved the language via her encouragement. Young Mr. Hitten Verma and Ms. Kiran Rizwi delighted us all with a fine presentation each in chaste Urdu. Hamida herself took us through on a carefully crafted journey of two sister languages, "Hindi" and "Urdu," who shared a tehzeeb or culture together. She said that Urdu went as a bride to Pakistan but the common genetic origins of the two cannot be separated. Each has to be appreciated and promoted.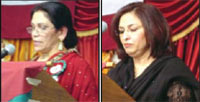 From left: Shahla Khan and Mahnaz Naqvi
The keynote address of Dr. Abidullah Ghazi was equally inspiring. He wore many hats during the evening. He was emcee of the Mushaira, keynote speaker and poetry presenter, all roles that he performed extremely well during which he included rare wit and wisdom that just had to be appreciated. Especially interesting was his emphasis on the blurring of boundaries between the roles of men and women today.
Shahla Khan next thanked the event sponsors, Mr. and Mrs Abdus Salam Qureshi, Drs. Kamil and Talat Hasan, Dr. Karim M. Hussain, Drs. Waheed and Munazza Qureshi and Mr. and Mrs Zain Jeewanjee for their generosity and support.
No AMU Alumni program is complete without the singing of the Aligarh "Tarana" which was enhanced this year by a DVD/Video cinematic tour of the campus on screen with many in attendance singing along.
The second part of the evening was the International Mushaira. The Urdu language is known for bringing people together via its rich poetry and it certainly brings people of Indian and Pakistani origin together, as it did once again at this gathering. Urdu poets from South Asia, the United States and Canada were present at this event.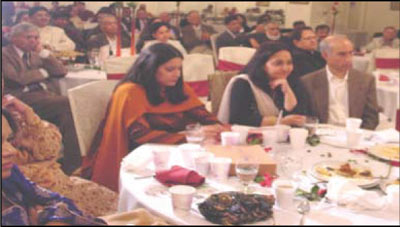 Absorbed listeners
Khushbir Singh, Popular Meeruthi and Manzar Bhopali represented India, Rehana Roohi and Jazib Qureishi came from Pakistan, Parvin Shere came from Canada and from right here in the United States, Abidullah Ghazi (Chicago) and a talented California contingent consisting of Mahnaz Naqvi, George F. Gohar, Abdul Qayyum (Mushaira President), and Aifra Ahmed.
Urdu Mushairas are an intellectual feast to experience. The language has an amazing treasure chest of verse, symbolism and wordplay. Some say that Urdu has received this gift from Arabic and Persian. But for any listener and viewer, the involvement of the audience is an added plus. And that was the experience that completed this event in Newark .

All the poetry presented was moving. Some was just plain excellent. But Manzar Bhopali stole the show by his tying together the current Muslim experience. He wrote, "Meray Allah Meri Naslon ko Zillat say Nikaal. Haath Phehlai Musalman Bura Lagta Hai."
There was just too much material to put into one report here. Rehana Roohi's "Aurat Hoon," will have to be appreciated separately. But let us end here by writing that the words of Manzar Bhopali above were the reason Sir Syed Ahmad Khan gave a new direction to the Muslims of South Asia and the world. The issue today is: "Are we still listening?"

-------------------------------------------------------------------------------------