In Memoriam
Dottie (Dorothy) Gladys Hussain
September 18, 1944-December 2, 2006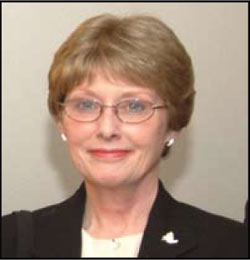 Dottie Hussain breathed her last on December 2, 2006 after a courageous four-year struggle with ovarian cancer. She died peacefully at home surrounded by her loving family. She was sixty-two years old.
Born to Albert and Mabel Brown in Ann Arbor, Michigan on September 18, 1944 she attended Chelsea High School, Chelsea, Michigan and Mary Manse College Toledo. She studied nursing at Maumee Valley Hospital School of Nursing and graduated in 1964.
It was at Maumee Valley Hospital that she met and fell in love with her future husband Amjad Hussain, a surgeon in training. They were wed four years later.
In 1970 the couple and their two children moved to Pakistan where her husband joined the faculty of his alma mater Khyber Medical College in Peshawar. It was during her four- year stay in Pakistan that Dottie developed strong bonds with her husband's extended family that lasted the remainder of her life. Since her return to Toledo in mid 1970's she made yearly visits to Peshawar to visit the family. While living in Peshawar she was known to pack a gun in the glove compartment of her Volkswagen Beetle during her forays outside the city to safeguard against occasional highway robberies.
All her life she remained a nurse at heart. In between raising her family she worked at various times at Maumee Valley Hospital, Toledo, Detroit General Hospital and St. Vincent Mercy Medical Center. She last worked as a critical care nurse in the emergency department of the Medical College of Ohio Hospital. As a nurse she was widely respected for her professionalism and her skills and was twice honored as Nurse of the Year at the Medical College of Ohio. To the surprise of her friends and colleagues, she decided to retire in 1996. Ever the perfectionist she wanted to leave the profession at her peak.
She traveled to many parts of the world with her husband and on one of those trips she taught nursing at the West China University of Medical Sciences in Shengdu, China. She also volunteered her nursing skills with Mid West Medical Mission in the Dominican Republic.
She was a gracious hostess and was known to extend unconditional hospitality to friends and strangers alike. These included steady flow of foreign guests and students to their Manley Road home in Maumee. These endearing qualities led Dr. Zahoor Ahmad Awan, a leading writer of Pakistan, to profile her in his 2002 book The American Diary.
Dottie is survived by her husband of 38-years Dr. Amjad Hussain, daughter Natasha Raabia, sons Waqaar and Osman and grandchildren Hannah and Kevin.
To honor her memory the family plans to endow a visiting lectureship in critical care at the College of Nursing, The University of Toledo. Friends may contribute to S. Amjad and Dorothy G. Hussain Family Fund at the Toledo Community Foundation, 1540 Fifth Third Center, Toledo, Ohio 43604 towards that goal.
Dr. Mahjabeen Islam adds:
Some of us are known by our multiple traits. Others by only one. Dottie Hussain stands out in my memory as serenity personified.
I remember the very first time that I saw her and how struck I was; by her almost perfect face, her translucent skin and most of all her demeanor. She carried herself with a grace that was regal. And with the dapper good looks of Amjad, they were quite the couple. My mother said so aptly: "The couple always emanated peace and love."
Friends and family had traveled from across the nation for her surprise 60th birthday a couple years ago. Colleagues from her early years of work were there too.
And it is not really her death, but that of all who mourn her. The one who dies is delivered, the survivors must deal with the endless taskmaster this life can be.
That cancer, that terrible thief, could take her from our midst at such a young age is numbing to me. And yet as her life was a fulfilled and productive, her passage to the other world can be called a 'quality death'. She had Thanksgiving dinner with her family and as the angry scourge took a hold of her body, hospice rose to the occasion and managed her pain seamlessly.
As the disease got angrier, she guessed that Christmas would not be celebrated in the flesh. The oldest son Waqaar (Qarie) works in London and was to arrive at 6:30pm. She knew her time was near. In and out of consciousness, she kept verifying the time. He came and she hugged all the family. And then with the serenity that typified her life, she showed us that one can waltz into the next one with amazing grace.
With love and a heavy heart,
Mahjabeen Islam

-------------------------------------------------------------------------------------