Movie Review
"Looking For Comedy in the Muslim World"
By Ras H. Siddiqui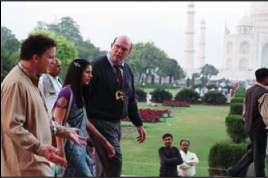 It was great to be invited to the San Francisco Premiere of Warner Independent Pictures and Shangri-La Entertainment's "Looking for Comedy in the Muslim World," a film by actor, director and writer Albert Brooks.
That was late in November last year, but unfortunately I just could not make it and instead had to wait to see it last week at the Crest Theatre in Sacramento. And it turned out to be quite an eyeful but the teary laughter just did not erupt. Instead this "comedy" actually makes one turn inwards and to think seriously about what is being shown.
The story gets off to an interesting start. A struggling American comedian, Albert Brooks, is looking for work. He goes to an interview and encounters Penny Marshall (remember her from the 1970's "Laverne & Shirley"?) and is abruptly dropped from consideration from the possible role. Brooks points out that this interview took less time than it took him to park downstairs.
Albert goes home to his daughter and lovely (eBay Shopping addict) wife who informs him that he has a letter waiting from the US Government (The State Department). A concerned Brooks confides in his wife that he did once visit an Al Qaeda website for just five minutes and that maybe the letter had something to do with that.
He opens the letter to find an invitation to visit Washington for a possible job. Encouraged by his wife and a sense of hidden patriotism he proceeds to the State Department in DC where he meets politician/actor Fred Dalton Thompson who explains to him that old fashioned spying and fighting have already been used and that new tactics are needed to develop an understanding with the Muslim world. He is also informed that our President has a great sense of humor.
Albert Brooks is asked to assist in a project which is studying what makes Muslims around the world laugh. And to do just that an on-site evaluation in India and Pakistan was required, along with the delivery of a 500-page report of the findings. "You would be doing your country a great service," he is told and that a Medal of Freedom would do wonders for his (sagging) career.
Till this point in the movie the viewer is still anticipating that laughter is just around the corner and these expectations remain high till that Air India flight lands in New Delhi. And from then on Brooks tries to make people laugh but does a thoroughly unconvincing job according to the response received.
The high point in this movie is Maya (Sheetal Sheth), the overachieving assistant and loyal believer in Albert's talents. Maya is leading an interesting life as is her jealous Iranian friend Majeed (Homie Doroodian) who appears to know a great deal more about comedy in America than Albert Brooks knows about comedy in India. Actually Maya and Majeed are the only two Indian characters that this movie has attempted to develop.
The funniest part of this movie is the one liners one hears from the Call Center located next door to the office set up in Delhi by the State Department and Brooks for this project. The center even hosts calls for the White House. This segment alone, if elaborated upon, could have rescued "Looking for Comedy in the Muslim World" from the serious realm.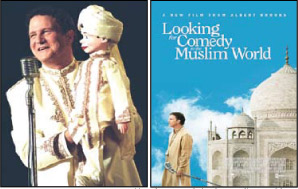 Pictures above: Scenes from Looking for Comedy in the Muslim World
The other parts of this film touch upon India-Pakistan relations and what the US could possibly do in this area. The intrigue starts with a secret four-hour trip (reminds one of the President Clinton visit to Pakistan Asia a few years ago) when Albert "unofficially" goes across the border to meet and humor a group of hookah-smoking Pakistani comedians. This does not humor the mutually suspicious authorities in both countries. Needless to say, an American comedian's innocent attempt on cross-border humor mission, leads to the possibility of war between these two countries. One wonders what President Bush will be stepping into during his upcoming scheduled visit to the two countries in March, 2006.
Albert Brook's attempts at communicating with Indians in a humorous fashion are certainly made clear in this movie. But the problem is that although awkward, these will generate few chuckles from American, Indian, Pakistani or Muslim viewers. There are many subtle messages here on the ignorance that rules the roost in Washington about the Muslim world or even India. The literally passing tour of the Taj Mahal conducted by Brooks is a case in point. The Taj is the crowning architectural achievement of Muslim rule and culture in India and is admired by people worldwide. Here it gets less attention than a driving trip through Kansas.
"Looking for Comedy in the Muslim World" gets just one out of four stars in my book for generating laughter. And for seriousness it gets two stars, a remarkable achievement for a comedy! But in each case one of these stars certainly belongs to the attractive and talented Sheetal Sheth.
In any case the message that this movie sends is one that is healthy, especially during these times of trouble between America and the Muslim world. This film is a reminder of the ignorance gap that exists between cultures. There is still a lot that that each could learn from the other and a great deal of humor could be produced along the way. But in conclusion here, if there is a funny bridge between Islam and America, "Looking for Comedy in the Muslim World" only vaguely located it, started to cross, but just did not find the other side.

-------------------------------------------------------------------------------------