"Let's Amplify What Bush, Clinton, and Rice Have Said"
By Akhtar Mahmud Faruqui

L to R: Dr. Salam Al Marayati, Bishop Tom Thorkelson, Atiya Niyazi and Dr. Farhana Khan
Lakewood, CA: Christians, Muslims and Hindus gave a singular display of interfaith harmony in Lakewood on Sunday, February 11, when they participated in a peaceful protest meeting to express indignation on the blasphemous cartoons in Danish newspapers that have caused global stir in the last few weeks.
The meeting was organized by Friends of Pakistan, a new organization founded by Sarfraz Khan, prominent community activist and owner of Khan Construction Company, at the Shahnawaz Restaurant. It was attended by community leaders.
The proceedings began with a recitation from the Holy Qur'an by prominent community member Saghir Aslam. He was followed by Bishop Tom Thorkelson, Director, Public Affairs, the Church of Jesus Christ of Latterday Saint, who read out a Christian prayer.
Ably emceed by Urdu Times Bureau Chief Zafar Abbas, the meeting furnished the Islamic, Christian and Hindu perspective on the sensitive issue of blasphemy. Suave and blend, Zafar who has made his mark in the literary circles of Los Angeles, spoke in fluent English to make a convincing point: "Intellectual terrorism" should be dealt with an "intellectual response" to stamp out misleading impressions of fabricated news and distorted images on naive, innocent minds.

L to R: Zafar Abbas, Sarfaraz Khan, Khalid Khwaja and Iqbal Ibrahim
The other speakers seemed to support Zafar's observation. Said Dr Farhana Khan, "Westerners are ignorant but they are not against Islam. We know this from our experience here. We have to devise a strategy " to dispel misperceptions about Islam. Dr Farhana censured the Western media for presenting a distorted perspective about the Prophet Muhammad (PBUH) and Islam and said that Muslims should act in a way that they "are smarter than them."
Atiya Niyazi of the Hum Log magazine urged the Muslims to exercise forbearance and wisdom in reacting to the publication of the blasphemous cartoons. "Don't let the intellectual terrorists control the Ummah," she made the incisive point.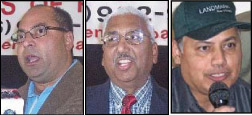 L to R: Kevin Kaul, Kewal Kanda and Asif Syed
Bishop Tom received a big hand when he quoted from the Holy Qur'an and made a stirring call for patience and self-restraint. "Let the radical clerics – those who foster hate – know that this kind" of behavior is hardly warranted. He was overly critical of extremists on both sides of the religious divide and urged the audience to "work for the elimination of racism, bigotry and vice." With manifest firmness, the Bishop described the publication of the cartoons as a "dumb, dumb, dumb" act. He mentioned "wondrous quotes in the Qur'an" and cited the Prophet Muhammad's own example in forgiving those who caused offence to his august person.
Mr Ahmed Ali, former President of the Council of Pakistan American Affairs (COPAA), spelled out his organization's standpoint on the current blasphemy issue: COPAA condemns the cartoons' publication but can't condone the violent protests marking the Muslims' response in various capitals of the world. The violence is ill-conceived and could make the situation worse.
Khalid Khwaja, well-known journalist and poet, aired the sentiments of many in the gathering when he remarked in an emotionally charged voice, "You can't make mockery of a Prophet" – one who was heads and shoulder above the virtuous ones of his time and later.
Two speakers of Indian origin testifying to South Asian cordiality and unity in LA –
Kewal Kanda , President, Federation of Indo-American Association, and Kevin Kaul, President. Friends of Indo-American Community, also spoke on the occasion. Mr Kanda remarked that "nobody should disrespect other faiths." He however felt that violence was not the right way to express indignation and a protest should be lodged in a peaceful manner. "Protest in a way that they don't do it again," he advised. According to Mr. Kevin Kaul, who followed Mr Kanda, the world today is plagued with conflicts and is a scary place. "We have to avoid events like this one if we have to have peace in the world," he observed.
Religion, according to Mr Sarfraz Khan, was no longer relevant in Europe. The continent has no idea how offending such cartoons can be in the God-fearing Muslim community for whom Prophet Muhammad is "as sacred as Christ in the Bible belt of the US."
Similar sentiments were expressed by Mr Waqar Ali Khan of Safeerae Pakistan, and other prominent community members including Mr.Iqbal Ibrahim and Mr Asif Syed.
A scintillating speech by Dr Salam Al-Marayati of MPAC was the highlight of the meeting. "You can't blaspheme the Church in Europe," he informed, adding, "anti-Muslim, anti-Christian and anti-Jewish defamation is wrong." By such blasphemous attacks and anti-Islam campaigns the Western media succeeds in dehumanizing Islam and Muslims. This largely explains why anti-Semitism is forbidden.
"Let's amplify what Bush, Clinton, and Rice have said. These cartoons are offensive," Dr Marayati observed. There is arrogance in the Western world. Let's "struggle for a Western conscience" to stamp out racism in our society.
Dr Marayati exhorted Muslims to "go to members of the Congressional caucuses, interfaith groups, religious leaders" to ensure that such torturous cartoons are not published again.
A resolution condemning the publication of the blasphemous cartoons was unanimously adopted by the various groups present in the meeting. The meeting also condemned the publication of paintings disparaging Hindu gods by artist Husain in India.

-------------------------------------------------------------------------------------