Leading Evangelist in first ever "Dialogue" with Islamic Scholar
By Melody Fox Ahmed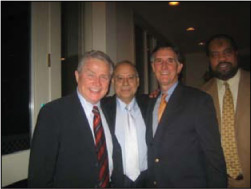 L to R: Luis Palau, Akbar Ahmed, Ambassador Doug Holladay, Imam Magid
Washington, DC: Luis Palau, an internationally famous Christian evangelist, and Akbar Ahmed, named the world's leading authority on contemporary Islam, met to discuss their faiths in an unprecedented session hosted by Washington D.C.'s The Buxton Initiative.
The event took place at the home of George Kettle, a prominent Washingtonian, with about 100 attendees. Some of the notable guests included Secretary John Dalton, Ambassador John Hanford, Dr. Sohail Khan and Mr. Gardezi of the Embassy of Pakistan, Manager of Pakistan International Airlines, Secretary Joe Reder, Imam Magid, Doug Johnston, DCM Walid Abdelnasser (Egypt), and Rev. Clark Lobenstine.
Ambassador Doug Holladay chaired and moderated the event. He introduced the Buxton Initiative to the audience, which was born when Amb. Holladay and Dr. Ahmed began talking about their faiths together shortly after 9/11. They became close friends and acted on their idea to invite others to join in the Muslim-Christian Dialogue, with the goal of fostering reconciliation among people from different faiths and worldviews.
Secretary John Dalton introduced Luis Palau, praised him for his work, and said that "he makes the Gospel clear and understandable". Mr. Palau is considered to be as popular and well known around the world as Billy Graham. This was the first dialogue session that Mr. Palau has had with a Muslim.
Imam Mohammed Magid of the All Dulles Area Muslim (ADAMS) Center introduced Akbar Ahmed as "a voice of modernity, peace and understanding". He said that he does not preach tolerance, but is tolerance. He added that Dr. Ahmed had opened doors for Muslims living in the US, which has created bridges of understanding.
Both were asked to discuss three misconceptions that they feel the other holds about their faith.
Dr. Ahmed emphasized three points that non-Muslims need to know about Islam. Firstly, the depiction of Islam as a violent religion is wrong. In essence, it is a religion of compassion. The problem is that now the world is experiencing a collapse of morality, and the challenge for Muslims is to rediscover the compassion fundamental to their religion. Secondly, he is dismayed by the depiction of Islam as a satanic religion, when it is Abrahamic at its roots, and very consciously sees itself as part of the Judeo-Christian tradition. Dr. Ahmed read Rumi's "Jesus Poems" as an example of the reverence that Muslims feel toward Jesus. Finally, he emphasized that Islam has a global, universal vision that is unfortunately overlooked in the midst of violence and terrorism. He quoted the Koranic verses about different tribes and nations that were created to know each other, and how Islam sees "no compulsion in religion".
However, Dr. Ahmed fears that society is at a tipping point – both morally and environmentally – and knows that the voice of moderation faces a difficult task in an age of new intolerance, strict literal interpretations, and radical sects. Now more than ever, it is fundamental that Islam's global outlook be remembered and revitalized.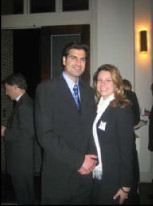 Author Melody Fox Ahmed, and husband
Umar
Luis Palau emphasized that Muslims should not confuse Christianity with the West, especially Europe, in an age when many profess to be Christians but do not live a spiritual and pure life. He wants to clarify that Christians do not worship three gods: God chose to reveal himself as the Father, Son, and Holy Spirit, but He is only one God. Finally, he spoke of the resurrection of Jesus and the need to understand this.
Dr. Ahmed emphasized that there is nothing in Islam that incites violence. The Prophet emphasized love and compassion. But he also pointed out that Muslims need justice, and there is much anger at the injustice in the Muslim world today. He cited the problems in Palestine, Kashmir, and Chechnya that need to be resolved. Systems are falling apart due to the effects of globalization, the poor treatment of scholars, and the cumulative effect of decades of slow decline. He urged that the spirit of scholarship must be revived in the Muslim community.
Mr. Palau reprimanded those Christian leaders who denounce Islam, noting that we all come from Adam and Eve, and were meant to live among each other. When Dr. Ahmed spoke of the hurt that Muslims have felt because of abuse of the Prophet, Mr. Palau said he found it "appalling" to insult a prophet and that you cannot have dialogue with Muslims if you attack them. He feels that people are frustrated and make mistakes when they think they are defending their religion, which cannot be done by offending or insulting others.
After the session eloquently moderated by Ambassador Doug Holladay, members of the audience asked questions.
Nafees Ahmed, Dr. Ahmed's 15-year-old daughter, asked Mr. Palau what his advice was for young people to follow a spiritual life. He urged her to avoid the present superficial culture, to always analyze her faith and study it by reading the original texts, and to always show love to others in spite of disagreements. Nafees invited Mr. Palau to speak at Walt Whitman High School, where she is a sophomore and president and founder of the Interfaith Club. Mr. Palau was delighted to learn of her initiative and replied that he loved to speak to the young generation, who are our future.
Secretary Reder asked Dr. Ahmed what Americans can do to win the hearts and minds of Muslims around the world. Dr. Ahmed stated that the best thing Americans can do is to "be more American. America stands for democracy, human rights, and minorities. This resonates in the Muslim world."
Dr. Ahmed urged the dialogue to continue, noting that it relates to 1.4 billion people, and is thus far more than "just a drawing room conversation". Dr. Ahmed said that Mr. Palau should visit a mosque so the world and ordinary Muslims would see their efforts, which need to be public in both the USA and the Muslim world in order to have a positive effect. He said that we need to read more about each other, and finally, we must create friendships – not just formal dialogues that end, but true friendships that grow over years and help change and reaffirm our own faith.
Mr. Palau agreed, calling for the need to respect and love all people, and emphasized that we can be friends without agreeing on everything. He urged that we should not be afraid to seek the truth, for the truth is what will set us free.
These comments hold particular relevance in the midst of the anger, violence, and confusion caused by the recent publication of caricatures of the Prophet Muhammad. The outrage felt in the Muslim world, and the insensitivity of the West, clearly shows the lack of understanding that each culture has of the other. Efforts at public, global dialogue and understanding must be redoubled, lest we reach a tipping point from which there is no retreat.

-------------------------------------------------------------------------------------