Driving force in disk storage
Arif Shakeel is leading Western Digital when the biggest challenge may be to motivate people during successful times.
By TAMARA CHUANG
The Orange County Register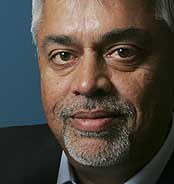 LAKE FOREST - For one simple reason, Arif Shakeel agreed to become the chief executive officer of Western Digital Corp., the world's second largest computer hard-drive maker.
"I did it because the company asked me to," said Shakeel, 51, who joined the company 21 years ago as a product-marketing manager for controller boards. He started his new job in October. "I owe a lot to the company."
Not so simple is the road ahead, Shakeel said. That's because Western Digital is doing fantastic. Its stock is trading near its 52-week high, closing at $21.97 on Tuesday. Revenue has nearly doubled in five years, while profit continues to grow. And the company's two largest rivals are in the process of merging - always a good sign for remaining competitors.
Shakeel replaces longtime colleague and friend Matt Massengill, who joined the company within months of Shakeel. The two have looked out for one another as they worked their way up in a company that promotes from within. When Massengill got promoted, he brought Shakeel with him through the executive ranks.
Massengill, seen as the guy who rescued Western Digital from the brink, is now executive chairman. But the way Shakeel sees it, Massengill had a much easier task. The company was doing poorly when Massengill took over as CEO six years ago, losing $492.7 million the prior year. His job was to fix it.
"Good news is scary. It's a tough job to motivate people in successful times," said Shakeel, who has been president since 2002 and retains that title. "It's difficult to motivate people who know they are doing well."
Shakeel, a family man whose teenage daughter likes to offer advice after listening to company conference calls, is personable and has a competitive spirit. He calls many employees and customers by their first names. A framed jersey of Detroit Pistons basketball star Ben Wallace hanging on a wall in his office is the result of a basketball rivalry with Dell executives, who sent him a jersey after Shakeel's favorite team, the Los Angeles Lakers, lost.
But it has been a tough road to get to where he is now. In the late 1990s, Western Digital frenetically trimmed staff to abate financial losses, which ballooned to $492.7 million in 1999. Massengill became president in January 2000 and sped up the effort by closing facilities and getting out of businesses, such as its business computer servers and an attempt at a personal video recorder. The company went from 16,000 employees in its 1997 heyday to 10,000 by 2001.
Part of the problem then was a serious price war, and hard-drive makers were losing money in order to grab market share. It backfired, and several exited the business. Western Digital decided not to play the game, and, along with Shakeel, Massengill concentrated on cutting expenses and operating the company more efficiently.

Now it is Shakeel's turn.
THE PLAN
Since he was a curious 10-year-old growing up in Pakistan, Shakeel knew he wanted to be an engineer.
"I remember asking my dad, 'Who are the people who design airplanes?' And he said, 'mechanical engineers.' That's what I wanted to do. I never changed my mind," said Shakeel, who moved to Memphis, Tenn., for college, earning a bachelor of science degree in mechanical engineering from Memphis State University and later an MBA from Pepperdine University.
But CEO? He'd never dreamed of that specifically.
"I've never had title goals. I just wanted to be really good at what I do. I'm driven a little bit by the money for family obligations, but really I didn't want to be known as doing an 'OK' job. I wanted people to say, 'He did an unbelievable job,'" said Shakeel, who counts former company president Kathy Braun and CEO Chuck Haggerty as mentors.
Shakeel, who left the company in 1997 and rejoined it in 1999 as head of operations, said his strength is operations. He has helped the company figure out when a customer needs more product before the customer even knows it.
"I know every morning how many drives were sold and our market position. In the past, we didn't have that crisp data," Shakeel said.
It is now Shakeel's job to make quality drives that do the job and remain affordable. If drive prices are too high, they make iPods, Xboxes and TiVo DVRs too expensive for consumers. If they are too low, hard-drive makers lose money.
Western Digital has found a good balance, said John Rydning, research manager for hard disk drives at International Data Corp., a market research firm.
"They've been executing their strategy very well, and it's been evident in their profitability," Rydning said.
Last year, about 17.5 percent of all hard drives sold worldwide had Western Digital's name on it. Seagate Technology led the market with 28 percent, with Hitachi at 15.5 percent and Maxtor Corp. at 14 percent, according to IDC.
Shakeel faces growth - and potential growing pains. Through various acquisitions, the company has doubled its employee count in two years and now has 24,000 worldwide, including 990 in Lake Forest. It has expanded beyond the typical 3.5-inch desktop hard drive and added drives to fit notebook computers, consumer electronics and most recently, tiny 1-inch drives for MP3 players, cell phones and GPS navigation gadgets.
Another reason for anticipated growth is the looming Seagate and Maxtor combination, Rydning said.
"(Mergers are) good for the industry. Just the fact that there are fewer companies in the industry should help stabilize pricing in the long term," Rydning said. "In the near term, there could be some benefit to Western Digital. There probably will be some merger-related losses. Western Digital is in a good position to pick up share."
Shakeel plans to keep fine-tuning operations, as he has done for the past six years working alongside Massengill.
"If we can execute the way we have in the past couple of years, the sky is the limit. Between MP3 and the DVR market, the growth of the laptop market, if we just keep our head down, we can be very successful," he said. "The entire industry has an opportunity. And with less players, it's like the perfect storm."

Arif Shakeel
Job: CEO of Western Digital
Age: 51
Biggest passion: His family. Lives with wife and two children in Laguna Niguel.
Hobbies: Golf and music. Favorite bands are the Rolling Stones and the Eagles; also appreciates jazz and has a few iPods to prove it.
Book he's reading: "Endangered Values" by Jimmy Carter
Western Digital Corp.
Headquarters: Lake Forest
Employees: 24,000, including 990 in Orange County
Fiscal 2005 revenue/income: $3.6 billion/$198.4 million
2004 revenue/income: $3 billion/$151.3 million
Business: Develops and makes hard drives for computers, game consoles, personal video recorders.
-------------------------------------------------------------------------------------