Taranum Naz Rekindles Memories of Madam Noor Jahan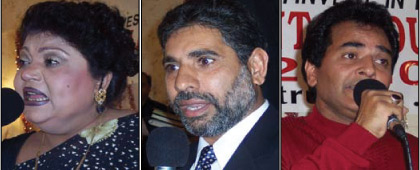 Taranum Naz, Sarfaraz Khan and Tahir Hussain
A spectacular musical evening was held at the Shahnawaz Restaurant, Lakewood, on the eve of the New Year with Taranum Naz, a disciple of the late melody queen Noor Jahan, mesmerizing the audience with her scintillating performance. There were many in the audience who felt , with no small degree of conviction, that Taranum deserved to be bestowed the title of the 'current melody queen.'
The highly enjoyable event was organized by the Khan Entertainment Group, which has become a well-known name in the community. Sarfaraz Khan presented Taranum to the audience who applauded her performance with spontaneity and marked appreciation.
The voice of Taranum Naz appeared indistinguishable from that of the illustrious melody queen Noor Jahan. Taranum Naz is a trained playback singer and has won accolades for her TV and film songs that she has sung for Sangam, Phool aur Khuboo, Dil da Badsha and Khali Phool. She is the disciple of the late madam Noor Jahan, and thanks to her devotion, she has received many awards including the "Pride of Performance" by the Government of Pakistan.


Taranum Naz with prominent community members
Taranum began her career as a vocalist from Radio Pakistan in 1974. She has earned wide appreciation for keeping alive the tradition of Madam Noor Jahan. Her renderings in semi classical style are considered to be of the highest order.
The event began with Tarannum singing 'Awaz de kahan hai' at 10:15 pm. The audience was glued to their seats. They were in a state of ecstasy till the end of the show at 1:30 marking the first morning of the New Year. She also sang a number of classical ghazals including 'Muddat hooi hai Yar ko Mehman kiay howayTaranum spiritedly sang a number of popular songs for more than three and half hours without any break. ." Popular Punjabi song 'Sanyoni mera mahi mery bhag jagawan agaya' was heartily applauded by the audience.
Another feature of the performance was that there were only two instruments, tabla and a keyboard, that were played to support the artist. The keyboard was played by Boby Wazir (son of late famous music director Bakshi Wazir) and the tabla by Asif Hassan Mehdi (son of another living legend, ghazal king Mehdi Hassan).
The show ended with the Sufi song 'Lal Meri Pat Rakhio.'
Tahir Hussain, a local singer, also performed at beginning of the show and sang some old songs of Ahmed Rushdi.
Sarfaraz Khan of Khan Construction thanked all guests for their presence. Khalid Khaja, Dr. Feroz Alam and Atia Niazi also spoke on behalf of the Los Angeles community and thanked Sarfaraz Khan for bringing famous singers from Pakistan to perform in the US to the delight of the Pakistanis living in this country.

-------------------------------------------------------------------------------------