Joint Pakistan-India Fundraiser in March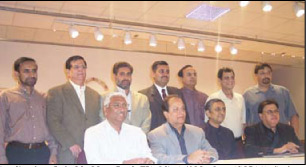 Standing from Left: Mr. Manu Patel (FIA-SC), Arif Merchant (COPAA), Sarfaraz Khan (FOP), Ashok Savla (JCSC), Amrit Bhandari (Lions Club of Little India),Roshan Khandpur (FIA-SC) and Ajay Khetani (Commissioner of Anaheim) Sitting: Kewal Kanda (FIA-SC), Waqar Ali Khan (CPACC), Nitin Shah (JCSC) and Hamid Malik (COPAA)
Buena Park, CA: A joint Pakistan-India fundraiser for quake victims will be held on March 4, 2006 at the Jain Center in Buena Park.
Organizers of the fundraiser arranged a press conference on Saturday, January 7, 2006 at the Jain Center of Southern California to make a formal announcement about the forthcoming event which will be the first ever India-Pakistan charity concert/fundraiser in Southern California for the benefit of the quake victims.
The organizers of the press conference included members of the Council of Pakistan American Chamber of Commerce (CPACC), Council of Pakistan American Affairs (COPAA), Friends of Pakistan (FP) and members of the Jain Center of Southern California (JCSC) as well as Indian and Pakistani community leaders.
The worst earthquake in many decades in South Asia has claimed over 100,000 lives and has left over 5 million people homeless. The March charity concert is of singular importance as it would bring for the first time Indian and Pakistani communities together to jointly raise funds for the earthquake victims in Kashmir.
This is the first time ever an event is being organized with joint efforts by the leaders of both Pakistani and Indian communities to express their friendship and support for each other and their countries in this time of need. This collaborative effort will provide healthy growth of both communities and will create strong bonds between individuals and the two communities. Every one is urged to support this event.
Top artists from India and Pakistan will perform at this charity concert.
For more information about the March fundraiser, please contact Dr. Nitin Shah (JCSC) 714 456-5501, Waqar Ali Khan (CPACC) 909 489-2289, Hamid Malik (COPAA) 714 514-5786 and Sarfaraz Khan 626 922-9105.

-------------------------------------------------------------------------------------