Education Called Key to Safe Hajj
By Betty Wells Miller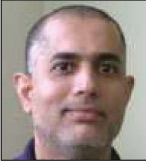 Shakeel Syed
Inland Muslims on Thursday called for better education for pilgrims participating in the Hajj after 345 people were trampled to death near Mecca.
Leaders of the Shura Council of Southern California also asked Saudi Arabian consular officials in Los Angeles for a meeting to discuss orientation and safety measures that would better protect the more than 2 million Muslims who make the annual pilgrimage to the Middle Eastern kingdom.
"There is no excuse for this to happen, period," said Shakeel Syed, executive director of the Shura Council. "We do not question their (Saudi officials') sincerity of serving pilgrims. We do question the resources allocated," such as whether crowd monitors are adequately trained to understand the diversity of cultures and languages or the zeal of some pilgrims.
The Shura Council, an organization of mosques and Islamic centers, called the Saudi Consulate on Thursday morning after receiving numerous calls from Southern California Muslims angry that at least 345 Muslims died and 289 were injured in a stampede during the ritual stoning of a symbolic devil.
"We asked for a meeting to help them understand it is not rocket science in the 21st century to manage 2 million people in two weeks," Syed said.
Inland Residents at Hajj
Dozens of Inland residents are in Saudi Arabia for Hajj, the pilgrimage to Islam's holiest places that is required once in the lifetime of every Muslim who is physically and financially able.
The annual pilgrimage is a time of spiritual reflection and unity with Muslims from diverse cultures, races, nationalities and economic strata. It draws followers of Islam from tiny villages in Bangladesh and Ukraine to wealthy Arab nations and the United States, Inland Muslims said.
"The challenge is you have very poor peasants and farmers from undeveloped countries for whom this is lifetime experience for which there are no words," Syed said. For some it is an intense, emotional experience, he said. "They have been saving money their entire lives. They're now in their 50s and 60s. They think fervor will get maximum reward."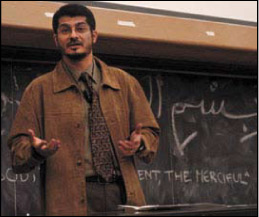 Hussam Ayloush
A 1990 stampede during the stone-throwing ritual killed 1,426 pilgrims, the Associated Press reported. Another 244 died in February 2004 During the ritual, Muslims walk on a two-level pedestrian bridge the width of a freeway past three pillars symbolizing the devil's attempts to persuade Abraham not to sacrifice the son Muslims identify as Ishmael. Pilgrims toss pebbles at the pillars in a ritual they believe earns forgiveness for past sins.
Ritual Misunderstood Some Muslims incorrectly believe they must visit al-Jamarat -- the three pillars -- between noon and sundown and that their pebbles must strike the pillars to satisfy the ritual. They do not, he said.
"The point is condemnation of evil," said Mustafa Kuko, director of the Islamic Center of Riverside. "Some people, if they miss, try to do it again and again." Some also ignore designated exits and go against the crowd to leave through the entrance, he said.
Hussam Ayloush, a Corona resident who participated in the Hajj in 2000, said anyone who applies for a visa to the hajj should also be required to attend an orientation so they know what to expect.
Some Saudi crowd managers underestimate the religious zeal of some pilgrims, Syed said.
"Some people get too hung up on the ritualistic process to the point where they need to perform the ritual at all costs, even if they push people around," said Ayloush, executive director of the Southern California chapter of the Council on American-Islamic Relations. He participated in the Hajj in 2000. "Most Muslims behave well during Hajj. It is a religious requirement to be nice. A Muslim would lose the full reward of Hajj if they were to get angry and push people around."
The Saudi government has spent millions of dollars to improve sanitation and crowd movement in Mina, near Mecca, Inland residents said. It also has considered scheduling specific times for different encampments to visit the pillars to regulate crowd movement, said Kalim Farooki, a Corona Muslim who is facilitator of the Shura Council. He made the pilgrimage in 1981.
"That's not easy to implement, because people are coming from all around the world who are very emotional," he said. "There needs to be more supervising and education."
News reports say the stampede occurred when some pilgrims tripped over luggage and were trampled.
"I attribute (the stampede) to the ignorance of some Muslims how to do Hajj," said Kuko, who has made the pilgrimage more than a dozen times. "Many come from places where they don't get good education."
Orientation Program
The Riverside Islamic center conducted a Hajj orientation for about 30 members in December, Kuko said.
Saudi crowd monitors also need training in how to communicate with people from diverse cultures and languages, Syed said.
"They throw up their arms also in frustration," he said of crowd-control officials. "It's all happening with good intentions. ... It's all happening because of lack of education."
(Courtesy The Press-Enterprise)

-------------------------------------------------------------------------------------