Looking through the "Urdu" Eyes of Faisal Azeem

By Ras H. Siddiqui


Left to right: Iftikhar Arif, Faisal Azeem, Farooq Taraz, Annie Akhtar and Baqar Rizvi
When one is informed of the revival of a group dedicated to the uplift of Urdu poetry here in Northern California, there is no other option but to take notice. The San Francisco Bay area has been blessed with a handful of efforts to support this language over the years, but Bazm-e-Arbab-e-Sukhan (or Bazm for short) has been prominent amongst them and has recently reawakened with quite a stir. Not only did it hold a successful International Mushaira (poetry recital) at the local Mehran Restaurant in Newark on July 2 but in the process it was able to attract the literary talents of Dr. Pirzada Qasim and Iftikhar Arif from Pakistan to help inaugurate a brand new collection of Urdu poetry by a relatively young local poet by the name of Faisal Azeem.


Left to right: Javaid Sayid, Mahnaz Naqvi, Shahid Anwar, Tashie Zaheer and Urooj Awan
California is a place where all kinds of international arts have arrived and blossomed. It was right here in San Francisco that Javaid Sayed launched his "Dyar-e-Maghrib Say" poetry collection almost a decade ago. Poetess Noshi Gilani also launched "Udaas honay kay din naheen hain," one of her collections from this area. This writer was also fortunate enough to attend the Bazm opening of Irfan Murtaza's book "Puraanay Ghar Kay Mausam" in 2003. And now Faisal Azeem joins the club with "Mairi Aaakhon Say Dekho."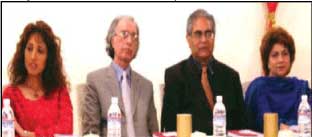 Left to right: Rahat Zahid, Pirzada Qasim, Iftikhar Arif and Rehana Qamar
Annie Akhtar, Shahab Siddiqui and Dr. Waheed Siddiqee promoted this event which was attended by a diverse Pakistani and Indian crowd. Annie has been carrying the banner of Bazm for quite a while now and has recently initiated a monthly gathering of the group. She opened the program with maazrat (apology) for its late start and commended everyone for both their participation and patience. She especially thanked Mehran, Mirza Tarkash, Dr. Tariq Mirza, Pakistan Times, Golden Gate Satellite TV, Perika Restaurant, and Zain Jeewanjee for their assistance with this effort. She said that a Bazm gathering is scheduled to be held every third Sunday of the month at Mehran Restaurant in Newark at 1:00 PM and that all lovers of the Urdu language are welcome to participate in it. She also asked everyone to turn off the ringers to their cell phones (one wonders what Ghalib, Allama Iqbal or Faiz Sahib would have said about that!). She then proceeded to introduce all of the local poets and out-of-town guests that evening.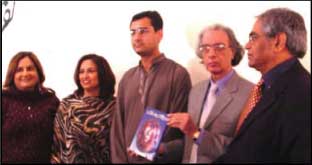 Left to right: Annie Akhtar, Mahnaz Naqvi, Faisal Azeem, Pirzada Qasim and Iftikhar Arif
The maizbaan (host) poets included Ms. Urooj Awan, Irshad Anwar, Professor Noor-ul-Hassan (Alig), Tashie Zaheer, Farooq Taraz, Javaid Sayed, Mrs. Mahnaz Naqvi and the focus of the evening, Faisal Azeem. Mehmaan. Guest poets were Master of Ceremonies Abbas Tabish (Lahore), Zafar Abbas (LA), Ms Rahat Zahid (Glasgow), Rehana Qamar (LA), Asim Wasti (UK), Dr. Pirzada Qasim (Karachi) and Chief Guest Mr. Iftikhar Arif (Islamabad). Also in attendance were Shafiq Sufi (LA) and Baqar Rizvi. This report would have to encompass too much, if it attempted to incorporate all of the evening activities. Urooj Awan's "Taktay Rahay", Irshad Anwar's humor in "Khuda Kay Wastay", Mahnaz Naqvi's "Karna". Professor Noor-ul-Hassan's "Baaraish-e-Nau-Bahar, Tashie Zaheer's "Gaon kay Panchi", Farooq Taraz's "Mera Ghar Aisa Na Tha", Baqar Rizvi's "Mera Wajood"and Javaid Sayed's political verses were all excellent.


Pictures above: Some of the poets who participated in the mushaira
But as it has been mentioned earlier this was Faisal Azeem's night. His introduction by Mrs. Mahnaz Naqvi gave us just a glimpse of his accomplishments.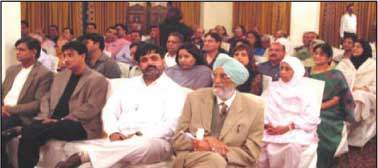 A section of the mushaira attendees
Dr Pirzada Qasim Raza Siddiqui elaborated. The VC of Karachi University spoke of the generational connection in Faisal Azeem's poetry. Faisal is the son of senior poet Shabnam Romani (Dusra Himala). Dr. Qasim said that times change but such continuity is maintained, which is but a gift of Urdu poetry. He said that he has known Faisal since he was born and the challenge before the young man is whether he is ready to accept the wisdom of his family and culture. He said that Faisal has found his own way or "raasta" and that it was the duty of senior or contemporary Urdu poets to encourage such new talent by participating in the inauguration or "Rooh Numayi" of their work, like we are doing on this occasion. He also took the opportunity to read Faisal's "Connecting Flight," a work that deals with the topic of belonging in this era of globalization.


Prof. Noorul Hassan
Annie Akhtar, Mrs. Mahnaz Naqvi, Dr. Pirzada Qasim and Chief Guest Iftikhar Arif next assisted Faisal Azeem in officially inaugurating his first collection of Urdu poetry titled "Mairi Aakhon Say Dekho." The book was enjoying brisk sales at the time that this writer had to leave, because this was destined to be a very long night and the guest Mushaira was yet to start. As Faisal Azeem presented his work "Apni Hi Aakhon kay Paani ko Dawa kartay huway.. Jal Raha hoon Dosti ka Haq Ada Kartay Huway…"
Looking though the eyes of Faisal Azeem in "Mairi Aakhon Say Dekho" will be like looking into the mirror for many of us expatriates. This is a work by a young Pakistani engineer who has made America and particularly the San Francisco Bay Area his home and is carrying on the rich tradition of Urdu poetry handed down by his father. But unlike his father Faisal Azeem is writing in the era of Information Technology, globalization and eroding borders between cultures and intellect. And judging from what we have heard thus far, he has taken the task head on and offers slices of wisdom well beyond his years on this planet. We as a community commend him for his effort and for not only looking at our changing lives through his eyes and penning his observations, but in the process forcing us to evaluate the difficult choices that we have ourselves made during our own "Connecting Flights" through life.
-------------------------------------------------------------------------------------