Pakistan-US Ties in Healthy State
A Pakistan Link Report
Los Angeles, CA: A buoyant and upbeat Mian Khurshid Mahmud Kasuri, Foreign Minister of Pakistan, assured a group of journalists on Friday, July 14 that US-Pakistan relations are in a "healthy state" and the two countries are engaged "in a very diverse dialogue" that demonstrates the multi-faceted nature of their growing relationship.
He was briefing newsmen at the LAX Hilton at a reception hosted in his honor by the Council of Pakistan American Affairs (COPAA).
Mr. Kasuri described his trip to the US as "a very good visit". Its purpose has been achieved as now "there is a better understanding of the role that Pakistan is playing as a moderate Islamic state."
Besides Secretary of State Dr Condoleezza Rice, the Foreign Minister met a large number of Congressmen, think tank representatives, and journalists during his visit. "We discussed everything," he said. Everyone ungrudgingly recognizes the important role that President Musharraf and Pakistan have played in the US war on terror, he added.
Mr. Kasuri claimed that the visit of a large number of delegations from Pakistan to the US testified to the growing ties between Washington and Islamabad. Dr Atta ur Rehman and the Minister of Education will be visiting the States shortly to forge closer collaborative links in the important fields of science, technology and education between the two countries.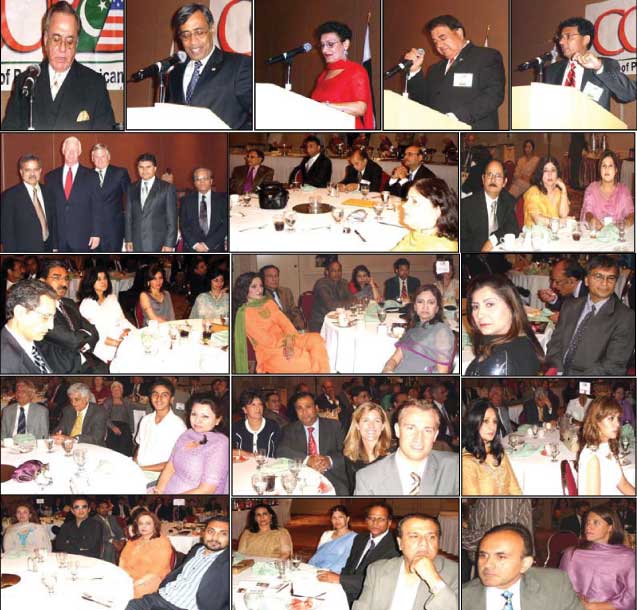 Pictures above: Glimpses of the COPAA reception in honor of Foreign Minister Mian Khurshid Mahmud Kasuri at the LAX Hilton, July 14 2006. Pictures by Naushad Sarwar
The COPAA reception was a heart-warming event with its past and present presidents, office bearers and members vividly extending comradely support to one another. "COPAA is now a respected and recognized household name," proudly claimed Mr. Hamid Malik, outgoing President.
Dr Farhat Zubair, the new President, recalled the history of the organization and how post-9/11 events led to the formation of the Council. Concerned at concerted and deliberate attempts to malign Pakistan's image, a group of Pakistani Americans formed COPAA to bring "a sense of balance among policy makers" in dealing with Islamabad. Several seminars were held to discuss Pakistan's policies. Seven hundred Americans heard the Kashmir case ably presented by Professor Stanley Wolpert for the first time, thanks to COPAA's sustained initiatives. "COPAA wants to act as a bridge between Pakistan and the US," Dr Farhat Zubair claimed.
She also paid tributes to the past presidents and recalled the support that COPAA had received from the late Mr. Ahmad Adaya. "We truly, truly miss him," she plaintively remarked.
In his brief speech on the occasion, outgoing Consul General Noor Mohammad Jadmani paid glowing tributes to COPAA. "It has built bridges between interfaith communities" and has taken very, many laudable initiatives. He expressed his gratitude to the Pakistani Americans living in Los Angeles and described them as "a community one could count upon." Mr. Jadmani was warmly applauded as he concluded his speech. He had enjoyed unbounded popularity during his tenure: Dr Zubair described him as one of the best consul generals in LA's history.

Foreign Minister Kasuri was full of praise for the Pakistani-American community and showered accolades on its members in his scintillating address on the occasion. "We are proud of your successes in the US. You are a model community. Your efforts in the political arena are equally important," he remarked. He exhorted the community to play its due role in giving a fillip to Pakistan's advances in the field of science and technology and to benefit from the present government's investor-friendly policies, which, in turn, would give an impetus to the country's economic growth. The economy has doubled, he told the gathering.
The Foreign Minister also touched on a number of sensitive issues, including the Pakistan-India peace process, conditions for Islamabad's recognition of Israel, and the situation on the Pak-Afghan border. "It is fair to say that there is a fairly large peace constituency in both India and Pakistan," but both countries will have to take very difficult decisions if they have to live in peace. President Musharraf has identified the possible contours of a Kashmir solution. A consensus seems to be emerging in Kashmir for the first time which may lead to a solution of the conflict – a solution that would reflect the aspirations of the Kashmiris and be acceptable to both Pakistan and India. The President of Pakistan has taken the initiative. Now it is for the Indian leadership to respond and act, Mr. Kasuri stated.
As for Israel, if it withdraws from the occupied territories, Pakistan will be prepared to recognize it. "We are for a viable and independent Palestine State," Mr. Kasuri clearly stated.
A lively question-and-answer session followed.

-------------------------------------------------------------------------------------