50th Wedding Anniversary of a Great Couple
By Abubakr Vakil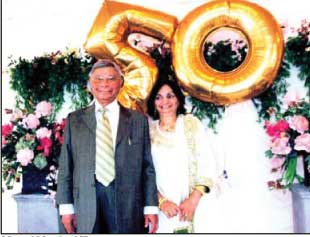 Mr. and Mrs. Syed Hassan
Here is what I have to share about a couple I adore. It is only 20 % of my feelings for them and their family.
I feel blessed and lucky to have a friend and a brother like Syed Hassan Sahib. He is a very fine human being. He has a number of qualities that distinguish him from others.
My dear Bhabi Sahiba Rasheeda Hassan too is a very nice, polite and extremely soft-spoken lady. Mr. and Mrs. Hassan's 50th wedding anniversary clearly indicates their profound commitment, perfect harmony and understanding for each other. In fact, they are the best compliment to each other.
They raised their offspring in the best way possible and that is why the results are so impressive. In the medical field, we have Dr Khalid Hassan - outstanding in his profession and a remarkable human being. In the legal field, we see a brilliant young man, Tariq Hassan, a successful attorney with a bright future in store for him. Their four daughters are equally talented young ladies, each one outstanding in her own field. They are cultured and refined human beings. I salute both husband and wife on the successful upbringing of their children.
Hassan Sahib is a very successful businessman. He was the first to launch the Pakistani American Association in California. He is an outstanding poet. I have never seen him raising his voice or shouting on any one. He has been an integral part of the Islamic Society of Orange County. He is loyal and fair to every one. He has been an icon in many associations and organizations. He always keeps a low key. He gives a good account of himself whenever a responsibility is entrusted to him. His sterling qualities are many and it is difficult to recall all of them. I mention only a few here. I would unhesitatingly say that it takes ages to find a couple of the caliber and qualities of Mr and Mrs Syed Hassan Sahib.
May they both live for a thousand years. And may each year be of fifty thousand days.

-------------------------------------------------------------------------------------