Lawmakers, White House Clash over
F-16s Sales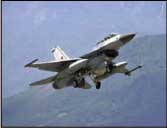 Washington, DC: The Bush administration has defended its sale of fighter jets to Pakistan, while key members of Congress accused the White House of making an end-run around Congress to seal the deal.
Assistant Secretary of State for Political-Military Affairs John Hillen told lawmakers that the sale of up to 36 F-16 fighter jets to Pakistan would help bolster a key US ally in the global fight against terrorism. "This sale is a presidential priority and a key element of the administration's South Asia strategy unveiled in March 2005, aimed at broadening our strategic relationships with our key regional partners: India, Afghanistan and Pakistan," Hillen said at a hearing of the House of Representatives International Relations Committee.
However the committees leaders -- both Democratic and Republican -- were irate over the sale.
"What we can say for the public record is that a sequence of actions and inactions by the State Department recently resulted in a host of serious national security and compliance issues," said the panel's Republican chairman Henry Hyde at the hearing, accusing the administration of "flouting of Congress' role."
"This insolence flies in the face both of custom and the intent of the Constitution," added his Democratic counterpart, Tom Lantos.
To avoid being circumvented in the future, the two lawmakers on last Thursday introduced HR 5847, a bill that would require quarterly updates on possible upcoming arms sales and would enforce a 20-day consultation period before a proposed sale could go forward.
Lawmakers expressed concerns that the fighter jets' sophisticated technology could fall into the wrong hands. "While I support the substance of the sale, we have had long-standing concerns over the security plan to protect the US technology in these aircraft and missiles in sales to a country that produced the A Q Khan nuclear proliferation network," Lantos said.
But the administration insisted that the sale not only was not a security risk, but would make America safer.
"The sale will send a very clear signal of our commitment to a long-term relationship with Pakistan ... and it will strengthen the hand of President (Pervez) Musharraf and his government in supporting us in the war on terror and in continuing to make other politically difficult, yet strategic choices," Hillen said.
US President George W. Bush's administration notified the Congress of the five billion dollar aircraft sale late last month.
Washington had blocked the sale of F-16s to Pakistan for 15 years to protest its nuclear weapons program, but gave the green light in March 2005 to reward the South Asian ally for its help in the war on terror. Pakistan already has more than 30 multi-role F-16s made by US aerospace giant Lockheed Martin Corp.

-------------------------------------------------------------------------------------