Senator Deborah Ortiz Fundraiser in Sacramento
By Ras H. Siddiqui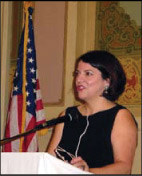 Senator Deborah Ortiz
For those who have not read their Sample Ballots here in California, Primary Elections are just around the corner. Two Democratic Party candidates are vying for the Secretary of State slot. Both are currently State Senators and have similar first names. Senators Deborah Ortiz and Debra Bowen are on the ballot for the June Primary. Only one will reach the November elections to face off against a Republican and/or third party candidate. And both of them will surely need California's huge minority vote to get there.
Senator Deborah V. Ortiz has been close to Sacramento's mainstream and minority politics for quite some time now. In keeping with the concerns of the latter, she has been a good friend of a number of prominent individuals in the local Arab, Asian, Hispanic Indian, Iranian and Pakistani-American communities. So it was not a surprise that people from within Sacramento's Muslims held a fundraiser for her recently to show their support. California's minority voters know that two State Senators, namely Deborah Ortiz and Liz Figueroa (currently running for Lieutenant Governor), have been instrumental in having their voice heard in Sacramento for a number of years now. And Pakistan Link is happy to have been reporting on their work and progress over the years.
At this particular fundraiser held at the Capital Plaza Ballroom on 9th Street on May 24, our community was helping a friend who has seen the difficulties faced by American Muslims in the past few years. Senator Deborah Ortiz has understood the fact that we are as much a part of America as any other emerging minority (like her grandparent's generation). She hosted the first Eid ul Fitr celebration at the California State Capitol in 2001, co-sponsored a community Ramadan Iftar at the same venue, provided internships for our youth, has been a recipient of the local CAIR Service Award in 2004, and remains a strong supporter of immigrant rights and of legislation in support of civil rights for all Americans. She has helped many other ethnic and religious groups during her years in office. And it is no surprise that they are helping her now.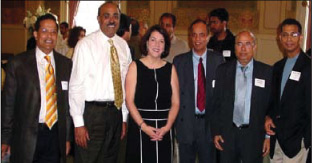 Senator Deborah Ortiz flanked by community members
Led by sponsors Rashid Ahmad, Bashir Choudry, Mr. Hassoun. Kais Menoufy, Moe Mohanna and Dr. Pasha and hosts Professor Metwalli Amer, Haseeb Rana, Javad and Majid Rahimian, Dr. Seyal, Javed Iqbal, Farouk Fakira, Dr. Hamza El Nakhal, Mahmoud Sharif, Rashed Rashed, Parlin Development, Tariq Munir and T. Sami Siddiqui along with others, the evening turned out to be like a meeting of friends.

Starting the formalities Sister Maren Shawesh invited Imam Abdel Azeez from SALAM to begin the event with a recitation from the Holy Qur'an. Host Moe Mohanna warmly welcomed Senator Ortiz and Mr. Hassoun followed along with Kais Menoufy, Tanya Syed thanking the Senator for the support she has shown for us over the years. Sami Siddiqui introduced her and invited her to speak.

Senator Ortiz thanked everyone for coming. She recalled for us the many reasons why she chose to join the political process. She spoke of why honoring the faith of others is important and that she was honored to have been a part of our community during its difficult times. "We ought to be instilling faith in the democratic process," she said. "This evening has inspired me," she continued. She spoke of youth like Tanya and the future. "This is going to be an interesting primary," she said. "I offer a model for tomorrow's California," she added. "God willing (Inshallah), I will make it through."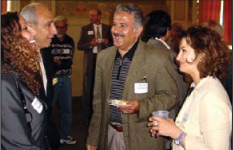 Prominent community members at the fundraiser
Rashid Ahmad made the closing remarks and Naeem Syed along with Tamer Ahmed spoke briefly in support of Senator Ortiz.
In conclusion, it is great to see the political process being supported and exercised here in America by all, including the incredible diversity that it encompasses. Here we have Senator Deborah Ortiz, a minority candidate for Secretary of State in California, being supported by several minorities including California Muslims. Salad bowl or melting pot, this is what makes us Americans proud. And with people like Senator Ortiz in high profile roles, tomorrow's California will be a better and more hopeful place for us all.
Don't forget to vote!

-------------------------------------------------------------------------------------