Obituary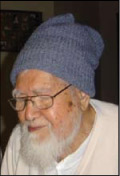 Br. Syed Abdul Qadir, a lifelong advocate of a united Muslim ummah, died of cancer May 28 in Austin, Texas. He was 93. Inna Lillahi wa Inna Ilayhi Raji'oon.
Br. Abdul Qadir was born in 1913 in Hyderabad, India. He earned a gold medal and degree in Civil Engineering around 1934, and then worked for 12 years overseeing construction of roads, bridges, and dams in the erstwhile State of Hyderabad. During this period, Br. Abdul Qadir was first exposed to the writings of the famous Muslim scholar Maulana Sayyid Abul A'la Maududi. Correspondence between the two soon ensued and Br. Abdul Qadir joined Maulana Maudoodi's Jamaat Islami movement, in its early years. Soon after, he resigned his government job, started his own Islamic book publishing and sales business which he managed for a few years. Then Br. Abdul Qadir left his young family in Hyderabad and moved to Rampur, India, became General Manager of Markazi Maktaba Islami (publishing wing of Jamaat Islami). He served as interim Ameer of Jamaat Islami, India in the late-50's.
In the late 1950's, Br. Abdul Qadir returned to Hyderabad, where he opened the city's first Jamaat Islami elementary school that catered to students from impoverished families. Abdul Qadir further demonstrated his commitment to serving the less fortunate through the establishment of an interest-free micro-credit loan program based on the Grameen model, which he administered with the help of his family and close friends. He served as Vice Principal of Bahadur Khan Technical College. He also served as lecturer of engineering at the Jawahar Lal Nehru Polytechnic Institute.
Br. Abdul Qadir continued his community uplifting work later in life as well. With the intention of honoring the integrity of Muslim women, he led an initiative to open India's first and only Muslim Maternity Hospital in Hyderabad in the early 1980's. Even after immigrating to the United States in 1991 to be near his children, Br. Abdul Qadir contributed towards charitable causes in time and resources and assisted both acquaintances and strangers in need. The last project that he continued to work on until two weeks before his demise was an easy to understand Talkhees (an abridged translation/commentary) of the Qur'an.
His wife, Basheer-un-Nisa, of Hyderabad, India; eight children, 26 grandchildren, and seven great-grandchildren survive him. As Islam teaches us, we all belong to Allah and to Him we all will surely return.
------------------------------------------------------------------------------------------------
Umer Hayat, left, and his attorney Johnny Griffin III smile as they talk to reporters after agreeing to a plea agreement with federal prosecutors in Sacramento, Calif., Wednesday, May 31, 2006. Hayat, 48, pleaded guilty of lying to customs agents about more than $28,000 he and family members were trying to carry on a flight out of the country three years ago. In exchange, prosecutors dropped charges that he lied to the FBI and will serve no more jail time after spending nearly a year behind bars. His son, Hamid Hayat, 23, faces at least 30 years in prison when he is sentenced July 14 for supporting terrorism by attending an al-Qaida training camp in Pakistan in 2003 and lying to the FBI.

-------------------------------------------------------------------------------------