21st Century Meets 17th Century in Abdullah Village

LEDtronics CEO
Pervaiz Lodhie
On May 3, 2006 about 15 Solar Powered White LED Village Streetlights were installed in the center of each cluster of four to five huts in the Abdullah Village in the Hub area of Sindh, Pakistan. Abdullah is a 400-year-old village and never had any lights, except kerosene lamps or candles, before. The LED light systems were designed and supplied by Pervaiz Lodhie of LEDtronics. They were assembled in his Karachi assembly plant. For some time now, Pervaiz has been working closely with a World Bank- supported project that is being funded through the Pakistan Poverty Alleviation Fund (PPAF) and carried out on the ground in the Sindh coastal areas by Shahid Khan of Indus Earth Trust.
The LEDtronics staff in Karachi helped in installing the Solar Powered LED Lighting systems in the village just in time for a World Bank and PPAF site visit a day later. About 15-20 officials of the World Bank and PPAF visited the village, spoke with its habitants, observed the effects of the lighting, and stayed overnight at the village.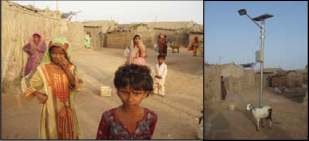 Pictures above: Solar Powered LED Lights designed by Pervaiz Lodhie in USA bring about a wholesome change in a village in Pakistan. The lights were manufactured in Karachi by Shaan Technologies. Pictures by Nausheen Dadabhoy
The life of the villagers has dramatically changed - for the better. Afraid of snakes that they could not see, they did not come out in the open at night before the lights were installed.. The work that the villagers could not do during the hot days is now done after sunset when the cool evening breeze blows and the villagers come to the work tables set up near the lights. The children can now study at night and do their school work.
Women too are able to engage in their handicraft work and much more. Villagers from other areas are now
coming to Abdullah Village to see the lights and are keen to see them installed in their own villages.
Another 10 systems are now being installed. Once some quick studies and feedback are received from the
first models additional systems with improvements will be built and installed in other villages.
-------------------------------------------------------------------------------------