OPEN Forum 2006 Focuses on the Rising Tide of Optimism in the US & Pakistan
By Ras Hafiz Siddiqui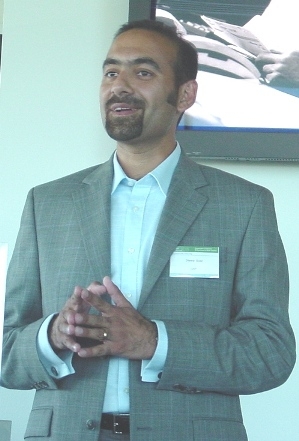 Dilawar Syed.
Palo Alto: The premiere annual gathering of Pakistani origin professionals and entrepreneurs in Northern California took place on Saturday, June 3, at the SAP Campus in Palo Alto once again, as over 300 men and women from across the United States gathered for "OPEN Forum 2006: Rising Tide" to focus on the new rising optimism being felt in the technology industry, not only here in America but also in Pakistan.
And if anyone is uncertain about the clout that the Organization of Pakistan Entrepreneurs of North America (OPEN) has developed over the years both here and internationally, he/she needs to take notice that it is not often that the President of Pakistan, General Pervez Musharraf addresses a business gathering even via teleconference from Islamabad to make a pitch for investment in Pakistan, as he did here.
The morning started off with registration and a light breakfast. OPEN Silicon Valley President Umair Khan gave a brief welcome speech and an overview of the organization. "Now more than ever, the Pakistani-American and Pakistani community needs OPEN," he said. Event emcee Aaref Hilaly following him expressed similar sentiments before introducing the morning keynote speaker Tom Dyal, Founding and General Partner at Redpoint Ventures.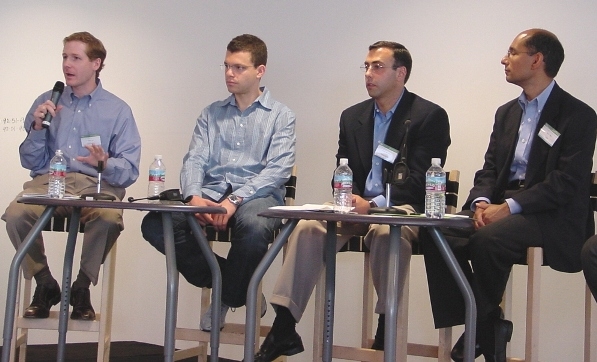 Roger Lee, Max Levchin, Sergio Monsalve, SalmanUllah
Tom gave an interesting overview of what is happening in the technology sector and the response to it in the investment community today. He spoke of "Blue Ocean" versus "Red Ocean" strategies and said that the preference amongst investors was for the first. Blue Ocean is about creating new categories of products and markets where essentially there is very little competition. Red Ocean targets markets that already have a number of players in it. "How much value are we really going to create with this company?" is the question that VC's ask, he said. He pointed out that Mobile and the Internet are the main focus of investment in the technology world today and that Enterprise IT and Alternative Energy sources are also being considered.
President Pervez Musharraf next made his live video conference keynote address to OPEN from Pakistan. By this time the SAP hall was full, and the General was speaking to a standing room only crowd, with the only vacant chair being that of this reporter when photographs had to be taken. He was certainly speaking to a friendly- partisan audience, and was completely at ease and as always, oozing confidence while maintaining a good sense of humor throughout his talk which surprised a few of us due to its level of detail.
He furnished many statistical figures that Pakistanis could be proud of and compared them to 1999 when the last government was in power. General Musharraf discussed strong macroeconomic indicators, poverty alleviation and the current business climate in the country besides other issues. He spoke of Pakistan's vibrant economic growth rate, improved international credit rating, increased per capita income (now $835) and investments in the water (dams) and energy (gas, nuclear powered) infrastructure which will create "a sea change" in the country.

Left to right: Dr. Ishrat Hussain, Asad Jamal, Marten Mikos, Tom Dyal, Umair Khan and Aarif Hilaly
President Musharraf spoke of the Gwadar Port and asked everyone to think of Pakistan now as an economic "hub" for the entire region, for Central Asia, the Gulf and China and even neighboring India. "We have created an investment-friendly climate in Pakistan," he said. "We have the cheapest labor in the world. It is cheaper than China and India," he informed the gathering. He spoke of an IT infrastructure better than that of the neighboring country. He said that there was a great deal that foreign investors could benefit from in Pakistan today. He even commented on the English-speaking skills of Pakistanis as an asset. He mentioned IT, the dairy industry, and fruit production as areas of huge potential growth. He concluded his speech on a very patriotic note that few listeners there would not have been moved by. "Be proud of Pakistan. Be an optimist," he said. And on being thanked by Aaref Hilaly for taking the time to speak to us, and being reminded that the questions session would be short since he must want to be turning in (due to the fact that it was getting to be late at night in Pakistan), President Musharraf appeared to be in no hurry. "The night is young and I don't mind sitting around," he said. And he proceeded to invite everyone from outside to come and see the real Pakistan. "We suffer from a distorted perception," he said.
To follow President Musharraf's speech and engage the conference attendees is a tough act. But Panel 1: "Web 2.0- Beyond the Hype" speakers Roger Lee (Battery Ventures), Max Levchin (of Slide), Sergio Monsalve (Photobucket.com) and Salman Ullah from Google proved up to it and did succeed in engaging some of the participants in discussing the future of this technology. But the concurrent Workshop 1: The Shore that Fits" upstairs discussion with speakers Adil Jaffry (Tara Energy), Aamir Sheikh (Merril Lynch) and Umair Khan certainly generated a great deal of interest because it focused on where the possibilities of investment in Pakistan are.

Left to right: Adil Jaffry and Aamir Sheikh; Waheed Qureshi, Larry Kubal, Saad Khan and Ken Matusow; Imran Saeed, Dr. Imran Shah and Ammar Hanafi
After lunch, Marten Mickos, CEO of MySQL presented the afternoon keynote. "People from Pakistan are very good negotiators," he said. Quoting William Gibson, Marten said: "The future is already here. It just isn't evenly distributed yet." He spoke about the phenomenal growth of MySQL (free or open source software) in places like Pakistan and described the online world as it is today and attempted to predict where it was going. "What happens when the online population doubles?" he asked. "In open source everyone can be useful," said Marten. "Freedom, Azad and Muft" (free in Urdu), he said. He ended his speech by making a plea to Pakistanis to protect the endangered Indus Dolphin.
Panel II: Confessions of a Life Scientist featured Mir Imran (Chairman In-Cube) was hosted by Doug Kelly. It was great to see that the Imran family was in the audience and that Mir, who best fits the description of a "Serial Entrepreneur" was able to share with the conference how he was able to launch so many companies, especially in medically-related technology while he himself had a EE/ME background. "The whole concept of boundaries between disciplines is artificial," he said.
Workshop II: Funding your Entrepreneurial Dreams: Raising Seed & Angel Investment for Early State Startups was moderated by Waheed Qureshi. It featured Larry Kubal (Labrador Ventures), Saad Khan (Garage Ventures) and Ken Matusow (Keiretsu Forum). This workshop offered some important guidelines for technologists who wish to benefit from outside funding and want to know what these investors are looking for to make their decisions.
Next, Dr Ishrat Husain, the former Governor of the State Bank of Pakistan, was the focus of the conference spotlight: Effecting Sea Changes in Pakistan. He has had a distinguished career in international finance and has until recently worked closely with the current government in Pakistan to turn things around after 1999. Dr. Husain echoed much of what President Musharraf had said in the morning and added his own thoughts to support the fact that Pakistan's economy is on the march. He encouraged overseas Pakistanis to shun cynicism about problems in Pakistan and to appreciate what their home country has achieved. From being on the verge of default in 1999, Pakistan has made tremendous gains since then, he said. "As Pakistanis, you should start having confidence amongst yourselves," he added. In a fireside chat with Dilawar Syed of OPEN, Dr. Husain said that foreign investment in Pakistan had always been safe and that even during the time of Z.A. Bhutto in the 1970's when many private concerns were nationalized, foreign investment was not touched. He also had some encouraging news on Pakistan's declining rate of population growth.
Before high tea was served, two more workshops were held. Workshop IIII was an interactive discussion on "Everything You Ever Wanted to Know about OPEN but were Afraid to Ask," between many conference attendees and Imran Sayeed (SVP Keane), Amar Hanafi (Alloy Ventures), Dr. Imran Shah (Interactive Broadband Consulting) and Dilawar Syed (SAP). OPEN Boston and New York were represented here and the discussion did cover the diversity that different OPEN Forum locations brought to light.
For good reason New York tends to concentrate more on finance, Boston is a mix, Silicon Valley concentrates on Hi-Tech and in all probility any future Houston Forum will have an energy flavor to it. What was also discussed was the opening of OPEN Chapters in Pakistan (Karachi and Lahore to start with and OPEN's growth from its 1998 birth in Boston till today.
Workshop IV: Opting for the Ocean Liner had little to do with taking a cruise at sea.
Zia Yusuf (SAP), Ravi Srivastava (Ergon Zehnder International) and Talat Sadiq (Drugstores.com) went into the details of how one could survive in the world of large corporations. The Intels, Cisco's and IBM's of the world also attract a great deal of our technology talent. But their structural environments are pretty much set and achieving success in huge corporations such as these (Ocean liners) takes a different survival and success strategy. What one can do besides washing the bosses' car (as one panelist joked) generated lively discussion.
The closing keynote this year was presented by Asad Jamal, Founder and Co-Chairman of ePlanet Ventures). On the topic of "Global Entrepreneurship and Venture Capital" Asad gave the conference an impressive glimpse of how he started out with just $100,000 of his own in 1999, was able to attract capital and interest from other Venture Capitalists (VC's) and build up an amazing international business success story. While the Y2K bubble had burst in the Silicon Valley, ePlanet capitalized on an overseas investment strategy. It ended up raising over $600 million and wisely invested in ventures such as Baidu, Skype and Kongzong in Asia, earning 7,033%, 4,5000% and 3,030% Return On Investment (ROI) in these companies, respectively. Asad shared how he started with just one office and phone, proceeded to build a team and focused on what he called "Disruptive Play's." He said that he used a First Principle Investing strategy. "If it does not make sense, we will not invest," he added. ePlanet has just recently opened an office in Karachi, so this global player is bound to be heard from there. ePlanet has become a shining example of the Global VC model.
In conclusion, as OPEN Forum 2006 drew to a close, many thoughts came to mind. Pakistani-Americans have succeeded at entrepreneurship in various tech-industries across America and they have maintained their linkage to their country of origin for mainly family and cultural reasons. But if one looks at the current success of both China and India, their overseas diaspora has had a great deal to do with their recent economic outlook. Pakistani-origin run enterprises worldwide can emulate the same, and make their home country a beacon of hope too. But Pakistan's overseas image problem is still lingering. An organization called the Association of Pakistani Professionals (AOPP) here in the US even has an online survey at http://aopp.org/brandpakistan.htm to address this issue.
Talks by President Musharraf and Dr. Ishrat Husain do reflect the rising optimism of the people in power in Pakistan. In that area, as in the case of technology here in California's Silicon Valley (exceptions such as Google remain), what may not exactly be a "Rising Tide" of optimism, is possibly just a stir. But it still needs to be noticed, and in either case let us hope that the Tsunami years are behind us.

-------------------------------------------------------------------------------------