Answers Sought from FBI on Possible Monitoring of Students
By Munira Syeda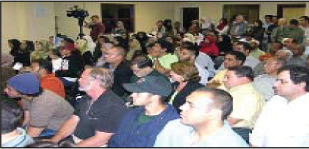 Attendees listen and ask questions during the town hall meeting hosted after a news report of possible FBI monitoring at UCI and USC
Irvine, CA: More than 200 people attended a town hall last Monday night at the Islamic Center of Irvine, seeking answers from J. Stephen Tidwell, FBI Assistant Director with the Los Angeles Field Office, on allegations of monitoring Muslim students at the UCI campus.
The Monday night town hall was organized by ICOI and co-sponsored by CAIR-LA after a recent news report of a possible FBI monitoring of students at UCI and USC campuses. The program consisted of talks by Tidwell and CAIR-LA Executive Director Hussam Ayloush, followed by a question and answer session and participation from the audience.
Community leaders, Imams, and UCI students and parents expressed frustration and concern over the news report and asked why such monitoring would take place.
Tidwell denied that FBI monitors MSUs either at UCI, USC or any other educational institution. He said there has to be legitimate cause for doing surveillance, and stated, "We don't do it … We still play by the rules.''
Shaykh Saadullah Khan, religious director of ICOI, said the FBI seems to harbor a 'guilty by association' mentality that is a matter of grave concern for the community. "This idea of suspicion, this idea of focus, this idea of intimidation is very worrisome,'' he said, adding that mosques and sermons are open to Muslims and non-Muslims, and Muslims have nothing to hide.
Ayloush said that when he starts to get calls from community members asking him if they should avoid going to the mosque or parents of students asking if they should tell their children not to be involved in their college MSU, that is a great concern to him. A news report of possible monitoring of UCI students, he said, at a time when pro-Israel groups are attacking these students despite their rights to free speech and peaceful assembly is an issue of great concern.
"The meeting was really about being positive, about finding answers from the FBI, about reassuring the Muslim community that there is no reason for fear," Ayloush said.

-------------------------------------------------------------------------------------