Strings Rock the San Francisco Bay Area
By Ras H. Siddiqui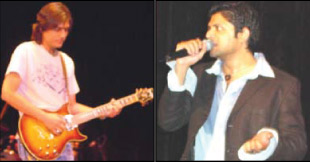 Strings' Bilal Maqsood and Faisal Kapadia
The duo of Faisal Kapadia and Bilal Maqsood known as "Strings" along with the three other musicians in their band played in the San Francisco Bay Area city of Oakland, California on Sunday June 4h, bringing their literally alive "Zinda Tour" to the Scottish Rite Center here on Lakeside Drive. This concert was locally organized by CNYDESI (http://www.cnydesi.com/).
Most important here is the fact that this Pakistani musical band performance was jointly supported by both Indians and Pakistanis here, a first in a number of years. Not since the heyday of Junoon have we experienced such a cooperative spirit, amongst both the organizers and northern California Desi fans here. And after having experienced their music live for the first time, some no longer need to guess why this phenomenon is catching on. The year 2006 is certainly turning into a live (Zinda) year for Strings.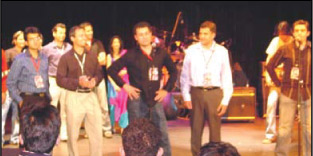 Organizers of the show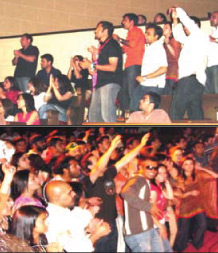 Two groups of the enthusiastic audience
Strings many accomplishments include winning an MTV award last year in India. They have also contributed music to the Indian-released version of the Spiderman 2 movie track and can take credit for producing (along with Bilal's father Anwar Maqsood) one of the finest ballads to come out of the South Asian musical scene in years. "Yeh Hai Meri Kahani…" or "Zinda Hoon" has got to be the epitome of the musical-lyrical combination today. Although the movie that it was included in was experimental in nature and not to forget violence prone, this song is destined to survive long after that Indian film "Zinda" is forgotten in the archival realm. But now let us move on to the show.
After announcer Maryam Taurab welcomed everyone, the two opening acts that performed were locals, namely emerging RAP performer Zohrain Sajjad and an interesting multicultural band by the name of Sofia's Brazil (have yet to figure out why). Zohrain's "Its stupid so dumb…" could even apply to relations between countries sometimes. Sofia's Brazil played a total of four numbers, reproducing the works of others along with one of their own versions of Mast Qalandar.
But it was Strings that the crowd came to see and hear and they got both an eye and an earful. Faisal's commanding vocal and stage presence and Bilal's sophisticated one, treated the audience to about two hours of Desi South Asian pop, rock and not to forget soul. Their "Chaaye Chaaye", "Na Jaanay Kiyoon" from Spiderman 2 were solid audience favorites. They rocked the house that the locals built with a trip down memory lane, their songs ranging from the first Strings (1990) album to Dhaani (2004).
Faisal explained how Strings were able to return to music after an eight-year hiatus between Strings 2 and Duur. He also made it a point to highlight peace between India and Pakistan. "The best part about playing in America is that we have Indians and Pakistanis together here," he said. He added that the future of a peaceful South Asia will be very bright. He asked how many people were from India here (estimate 30%) and how many from Pakistan (estimate 60%). There were also local people, and some from Bangladesh and Afghanistan in the audience who may or may not have understood String's absolutely beautiful performance of "Kitna Piyaara Hai Yeh Kal" (a vision of peace and a beautiful tomorrow for South Asians), that moved the crowd from both sides of the border.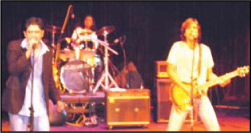 Strings in action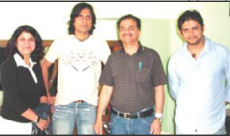 Farah and Ras Siddiqui with Bilal and Faisal in Oakland
Strings also paid a tribute to the late Nazia Hasan with "Disco Deewanay" and "Teray Qadmon ko Choomoon ga.," a Nazia-Zoheb number along with "Oui Oui." They also played a couple of Indian songs, and of course the song that everyone was waiting for "Zinda Hoon," which was even better live than its recorded version. They closed their regular performance with a high energy "Dhaani" and "Mast Qalandar."
The encore presentation incorporated several songs including a lori "So Ja" along with "Hai Koi Hum Jaisa and Sohniyae. By that time the crowd was almost on the stage and their enthusiasm had to be cut short by security on a couple of occasions.
The program ended with the young people of CNYDESI entertainment thanking Shiraz Jiwani and the Mehta Brothers along with a number of sponsors for their assistance in arranging this event.
In conclusion, some of us regret that we were not able to see Strings perform in San Jose a few years ago. But this show sure made up for it. It was a joy to see and meet educated members of musical bands from Pakistan representing what can only be good for the country's image here. And speaking of images, thanks to satellite television (and a reminder by Strings here when they played "Purani Jeans"), we saw glimpses of Ali Haider's wedding reception on screen recently. It appeared that almost everybody in Pakistan's music and show business was there except Strings, who were here on this American tour. A late wedding greeting, from all of us here, in sunny California to Ali and his wife is in order.

-------------------------------------------------------------------------------------