Sir Ben Kingsley at Palo Alto Fundraiser for Earthquake Victims
By Ras H. Siddiqui

Left to right: Sir Ben Kingsley, Dr Farshad Rastegar, Amra Tareen and Dr Hernando Garzon
Just when some had thought that last October's earthquake in northern Pakistan and Kashmir had been forgotten and now resided in our disaster archives, Relief International (RI) proved us wrong and held two fundraisers for its victims in California during the first week of June. This reporter had the opportunity to attend the $250 per plate affair at the Four Season's Hotel in Palo Alto, California, where the "Who's Who" of the local community included representatives from local Afghani, Indian, Iranian and Pakistani-Americans, who once again gathered to show their support to a cause that RI has already helped a great deal with. And with the added help of and appearance by actor Sir Ben Kingsley (Gandhi movie fame) one could be assured that the event would generate notice.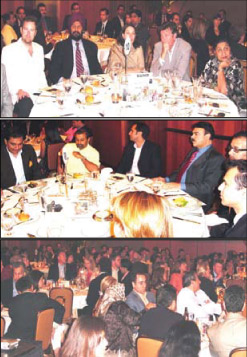 Pictures above: Guests at the fundraiser
That this fundraiser was held at the close of the same day as the highest profile annual gathering of Pakistanis in this part of the United States, namely OPEN Forum, some confusion was generated as to who was in charge. The Organization of Pakistani Entrepreneurs of North America (OPEN) was certainly a strong sponsor here, but this was an RI affair, which OPEN's Charter Member Amra Tareen opened to the delight of all. Amra is no stranger to our community and has taken a very active post-earthquake role along with a few other ladies from within our community (Paru Yusuf also comes to mind here).
Amra explained how she was at times hesitant, and her American husband concerned, when she proceeded to Pakistan after 10 years to participate in earthquake relief. She also shared with us her thoughts after seeing the magnitude of the destruction. "These people did not have much to begin with. What they had, they lost to this earthquake," she said. She informed that by March, most of the people were moving back where they came from. Her focus shifted to micro-credit, it also brought on the topic of buffalos. The very idea of Amra and buffaloes sounded amusing (she works at a major Venture Capitalist firm), but she was very serious about her new found knowledge about the Punjab water buffalo. RI is currently trying to raise funds to help rebuild the lives of at least one thousand families in the earthquake ravaged area, and the replacement of lost livestock including buffaloes for women head of households is a major part of this effort.
Relief International's CEO Dr. Farshad Rastegar echoed Amra's thoughts earlier about the importance of the buffalo to the dairy economy in northern Pakistan. He spoke of the earthquake area there, the widespread misery, and how RI was targeting women for its help since women are the best agents to prevent poverty. "I was stunned by the magnitude of this one," said Dr. Rastegar on visiting the earthquake area. Stressing RI's micro-credit effort the good doctor did not overlook his sense of humor. He said that some women there may want to exchange their husbands for a good milk buffalo.
Awards were presented at the gathering by Bruce Tennenbaum and Nazanin Tabrizi to individuals who have made a positive difference in the lives of many others. Recipients Will Semmes, Director, Chris Skopec, Supervisor, Kaiser Permanente and Dr. Sharon Levine Associate CEO certainly deserved the recognition. This reporter would like to add that Kaiser Permanente went the distance (literally) to help out earthquake victims in northern Pakistan, and our Pakistani-American community appreciates their efforts. Dr. Hernando Garzon, an Emergency Medical Physician at Kaiser in Sacramento, presented 'reflections of a volunteer' at this gathering and has shared his thoughts at other events also. We certainly thank him for volunteering to visit Pakistan and helping out when the need was great.
And a special word of thanks to Chip Duncan (Producer, Duncan Entertainment) here for his video documentary of this enormous tragedy.
Short speeches are made at such events to move people, and one such speech was certainly presented here and that was just Kamran Elahian's introduction. But kidding aside, when you have Sir Ben Kingsley deliver an appeal for a cause like this, people listen. And its style and delivery is talked about for weeks. Sir Ben did not mince words about how the assistance that is needed and provided will prevent extremism in that area. But in his case this was not a "talk down" from a celebrity. Sir Ben's words were chosen and delivered with great care and spun like fine silk. People remember well his role playing Gandhi. But for many his superb role of Behrani in "The House of Sand and Fog" just had to be remembered here. As in his role in that movie, Sir Ben became a part of the story. He has chosen to become a part of this earthquake tragedy and as two people in the audience later wrote to this writer, they were almost held captive by his delivery. He said that we must not allow hatred to take root. People are more susceptible to violence when they feel ignored and forgotten. He also said that as an actor he feels his role is to act as a bridge between different communities/faiths, etc. He took this to the next level by encouraging all of us to act as humanitarians - to bridge the gap between the "haves and haves-not".
Sir Ben Kingsley has won an Academy Award and has continued to be nominated on a number of occasions since then. But at this Relief International event he was not acting. He was helping out people who have suffered a great tragedy. And for this, Sir Ben along with Amra Tareen, Dr. Rastegar and the many others at Relief International deserve our collective thanks.

-------------------------------------------------------------------------------------