Bridal Showcase 2006
By Link Special Events Reporter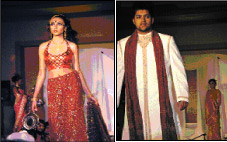 Cerritos: Ziba Beauty Center presented "Bridal Showcase 2006" on Sunday, February 26, 2004 at the Sheraton Cerritos from 12noon to 5 pm. The showcase featured more than 30 elite wedding vendors including Mirage Collection, Samson productions and Bhindi Jeweler, to name a few.
People happily waited in lines to sample delicious slices of cake, spicy chaat plates, mouth-watering BBQ kabobs, hot tea, fresh mithai and lots more. The vendors showcased the latest bridal fashion, flower arrangements, wonders in photography, wedding cards and trends in bridal make-up.



Glimpses of the Bridal Showcase 2006
Apart from this the grand event was the fashion show that displayed the latest trends in fashion for brides and grooms. The fashion show, which also included a classical dance segment, was well received by the audience. This event was multi-functional - a great attempt to display the richness of our weddings to other communities and to have the convenience to be able to plan out a wedding under one roof.
For more pictures please check out http://pakistanlink.com/community.htm
-------------------------------------------------------------------------------------