News and Views from New York
How New York Pakistanis See the Bush Visit
By Syed S. Hussain
New York

President Bush completed his first-ever visit to Pakistan as per schedule amid one of the tightest security arrangements the Pakistani capital Islamabad has seen for a long time. Layers after layers of security cordon consisting of Pakistani police, militias and armed forces personnel supported by US security apparatus ensured that the visit goes off without any incident.
The visit coincided with a strike call against blasphemous cartoons, which paralyzed much of the country. In Islamabad, all schools and many government offices were closed ahead of President Bush's arrival. Many businesses were also closed in response to the strike call
Most Pakistanis living in New York heaved a sigh of relief as the visit was completed safely. There was much concern about the visit in view of the Karachi bombings just a few days earlier targeting an American diplomat.
As to the substance of the visit itself not much ground was broken as was the anticipation of many. The visit remained primarily confined to the security and war on terror related issues. This was disappointing for many in the community who were expecting substantial progress in other fields like increased trade and relaxation of visa process etc.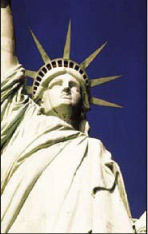 President Bush had said before heading to Islamabad: "I believe a prosperous democratic Pakistan would be a steadfast partner for America and a peaceful neighbor for India and a force for freedom and moderation in the Arab world". Unfortunately, during the visit not many steps appeared to have been taken to translate this hope and belief in practice. Nonetheless, some important issues were addressed during the visit:
• ECONOMY: Both countries agreed to initiate institutional frameworks to expand trade and economic links. Also open high-level dialogue on energy, education and science and technology.

• GAS PIPELINE: Probably the most significant gain for Pakistan in real terms was achieved when President Bush declared that he had no objections to an Iranian pipeline to supply natural gas to India and Pakistan. This should be welcome news for Pakistan as US objection to this deal was clouding this important project.

• EARTHQUAKE RELIEF: President Bush promised continued assistance in quake relief and reconstruction. President Bush and First Lady Laura Bush also met with orphaned children and other survivors of the quake and expressed their sympathy and support for them. President Bush also praised Pakistan's efforts in facing this colossal natural disaster.

• KASHMIR: Nothing notable happened on this issue. However, President Bush reiterated that Indian and Pakistani leaders were committed to resolving the decades-old issue and the United States would continue to encourage the parties to come together.

• ELECTIONS 2007: President Bush urged Parvez Musharraf to hold "open and honest" elections in 2007. According to him only a viable democratic setup in the country could defeat terrorism. President Musharraf reciprocated by saying that he had given total freedom to the press and introduced democracy at grassroots levels and that the post-2007 elections setup in the country would be as per the constitution.
US-INDIA NUCLEAR DEAL: Another issue which has received wide attention among the New York-based Pakistanis is the nuclear deal that according to many analysts has put the US-India relations on a new level of cooperation. There is a feeling that Pakistan has been left out of the race and India has been rewarded whereas both India and Pakistan have an almost similar history of nuclear development. In fact, it was India's 1974 nuclear test that brought about the so-called nuclear race in the sub-continent. President Bush put his perspective to the issue when he declared that "Pakistan and India are different countries with different needs and different histories,"
AMBASSADOR JEHANGIR KARAMAT: A protocol glitch seems to have occurred due to the absence of Pakistan's Ambassador to the United States Jehangir Karamat during the just concluded visit of President Bush. Normally the country's ambassador is present during such an important visit. The official explanation was rather unconvincing, that there was nothing unusual about this!!
E-mail: SyedHussainNYQ@aol.com

-------------------------------------------------------------------------------------