Naseebo Lal Shines at Superstar Show in Sacramento
By Ras H. Siddiqui


L to R: Naseebo Lal, Naeem Abbas Rufi, Mehga, Anwar Rafi and Qandeel
The Superstar Show (Kiran Entertainment) featuring performers from Pakistan and local acts entertained close to 400 people at the Robert Porter Center in Sacramento, California on March 5, 2006. The event was locally promoted by Faze and Mr. Hafeez and sponsored by the Mehta Brothers along with a number of other local businesses. This evening of entertainment proved to be just what the local community needed on a cold and rainy night in this Capital city.
It was a show of varied originality as "Vocal Impersonators" melded their personal performances with those of the Late Nusrat Fateh Ali Khan, Mohd. Rafi, and of course Madam Noor Jehan. It started off with Music and Dance, first by the "Gabra Punjab De" Bhangra Group from Solano County and Anwar Ali, and ended on a high note with the duplication of a voice that Pakistanis of my generation just cannot forget.
Hostess Qandeel began the formal program with a call for South Asian friendship as the predominantly Punjabi crowd from both India and Pakistan were entertained by her and Rahat Ali before Naeem Abbas Rufi came to the stage and stirred the listeners with his duplication of the late Nusrat Fateh Ali Khan's hits. His efforts were appreciated but his choice of attire proved to be a good conversation piece. His only song that we had already heard before was "Josh" but Rufi is both young and energetic and we are bound to hear more from him.

Naseebo Lal with local promoters

Naseebo Lal with some of her Sacramento fans

Solano County Bhangra Group

Anwar Rafi, who is also a distant relative of one of the most famous voices to ever grace Indian cinema, Mohammad Rafi, copied the efforts of the legend in a serious way. It proved to be quite a trip down memory lane for some in the crowd (especially for us from the Urdu realm) while many local young listeners grew restless for more Punjabi music. And they were not disappointed because it was not a singer but dancer Megha that entertained everyone to some Lollywood & Bollywood filmy dance routines.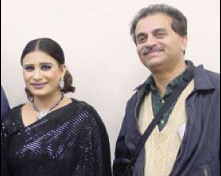 Naseebo Lal and Ras Siddiqui
And last but not least the lady that we had all come to see & hear. Naseebo Lal has created quite a sub-continental stir. Armed with a voice that sounds hauntingly like that of the late Pakistani Melody Queen, Noor Jehan, she graced the stage here in Sacramento, California and sang non-stop for over 2 hours. "Naseebo" revisited Noor Jehan's legacy and offered the audience a rare treat here during this, her first tour of America. I believe that she sang only one song in Urdu, "Chandni Raatain" originally sung by Noor Jehan. The Sacramento Punjabi community sure enjoyed the show and proved once again that one can take a person out of Punjab, but you cannot change his or her spirit
The legendary Noor Jehan is still considered by many as the finest female Punjabi singer ever. This writer also believes that she holds the same status in the Urdu language.
In my humble opinion, the finest song sung in Urdu that my generation has ever heard was by the Melody Queen Noor Jehan for the Film Qaidi (1962). The song was filmed on actress Shamim Ara. The words were written by Poet Faiz Ahmad Faiz. The song "Mujh Se Pehli Si Mohabbat Meray Mehboob Na Maang" its original version is yet to be surpassed by another.

Since the evening belonged to "Naseebo" and the crowd's requests just did not seem to end, here is my own late request for both Ms. Lal and her show promoters. While you take this show on the remainder of this North American tour, please do not forget to attempt "Mujh Se Pehli Si Mohabbat…"

-------------------------------------------------------------------------------------