An Evening with Pakistan's Cricketing Elite
By Farhan Aziz
CA
L to R; Wasim Bari, Farhan Aziz and Asif Iqbal
Many cricket fans here and elsewhere rarely have an opportunity to watch international cricket matches in stadiums, let alone seek autographs from our heroes. I recently had the good fortune and pleasure of attending a dinner reception at the beautiful defense society (Karachi) home of former Pakistan cricket captain Moin Khan. It was indeed a dream come true for this self-confessed cricket-o-holic.
The evening featured a unique gathering of some of Pakistan's most recognizable cricketing names: the effervescent Mohammed brothers (Mushtaq, Sadiq, and Hanif's son Shoaib), along with Javed Miandad, Wasim Bari, Iqbal Qasim, Salim Yousef, Haroon Rashid, Asif Iqbal and Waqar Younis, were just some of the legends that were present. Inzimam Ul Haq, Shahid Afridi, Abdul Razak, Mohammed Yousuf, Arshad Khan, and Mushtaq Ahmed represented the current crop of stars. Chairman of the Pakistan Cricket Board, Mr. Shehreyar Khan was also in attendance.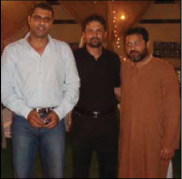 L to R: Waqar Yunus, Moin Khan and Mushy
In conversing with some of our more celebrated legends, I was amazed at their humility, knowledge, and lucid ability to communicate their thoughts. Wasim Bari, Iqbal Qasim, Asif Iqbal, Haroon Rashid, Waqar Younis, and Moin Khan spoke eloquently on the state of Pakistan's cricket, while Shoaib Mohammad, a frequent traveler to the US, shared his memories of California and America's finest cricket park (Woodley, in Van Nuys, CA). Javed Miandad, perhaps Pakistan's most recognizable cricket figure, was generous in imparting some batting tips. These gentlemen may have retired from Pakistan's competitive cricket stage, but an inherent cricketing spirit keeps them very close to the sport that has given them so much success.
Many of us have read and seen on our television sets, the increasing amount of religiosity within our current group of cricketers. Many of us have wondered privately whether this change has unified a traditionally fractious unit? I certainly don't have the answers, but what I can share with you about this post-match fixing unit is: what you see is what you get.
Inzimam Ul Haq on TV is uncomplicated, unflappable, and soft-spoken, while Mohammed Yousuf appears unfussy and free from the rapaciousness of the privileged. In person, both are much the same - they greet you with both hands, smile at you with genuine sincerity and converse with you with respect, irrespective of your name or stature. Shahid Afridi appears plucky and animated on screen, while Abdul Razzak presents himself as blasé. In person, they are the same – Afridi the vivacious, and Razzak the imperturbable. In conversing with these gentlemen, I realized that our current stars all shared the simplicity, sincerity, and minimalism of bucolic dwellers.

The author with Inzamam
Indeed, the socioeconomic and geographic composition of our team has changed in the new millennium. Previously, our teams were sourced mainly from the metropolises of Karachi and Lahore, with leading figures from urban households; often with college education. In contrast, our current squad features only four players who were born in Karachi or Lahore and an even less number with a college degree.
This was certainly an evening with Pakistan's cricketing elite. Moin Khan and his wife, clearly seasoned and munificent hosts, charmed the glitzy gathering of stars with their warm hospitality, attention to detail, and a serving of delectable dishes and sweets. I was truly honored to be a part of this unique gathering.

-------------------------------------------------------------------------------------