Johnny Griffin III, left, the attorney for Umer Hayat, talks with reporters after a mistrial was declared in his client's case, outside the federal courthouse in Sacramento, Calif., Tuesday, April 25, 2006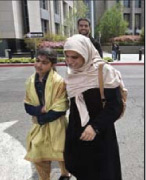 The family members of terror probe suspect Umer Hayat; wife, Salma Hayat, right; and daughter, Raheela, 11; and son, Arslan Hayat, 17, background; smile as they leave the federal courthouse in Sacramento, California
San Francisco: A US federal judge declared a mistrial on Tuesday in the case of a Pakistani-American accused of covering up his son's alleged Al Qaeda training.

A district court judge in Sacramento, California, released jurors after they assured him they could not agree whether Umar Hayat lied to the FBI about his son attending an Al Qaeda camp in Pakistan.

"The Umer Hayat jury is deadlocked and the jury has been released," Mary Wenger of the Attorney's Office said in a statement.
A separate jury continued to deliberate the guilt or innocence of Umar Hayat's 23-year-old son, Hamid.

Hamid Hayat, 23, allegedly trained with militants in Pakistan and planned an attack in the United States, Assistant Attorney Laura Ferris argued at trial.

Laura Ferris portrayed him as an 'Islamic fundamentalist' bent on carrying out jihad and promised to prove he intended to 'commit jihad' in the United States.
Defense attorney Wazhma Mojaddidi countered that Hamid Hayat never had attended a training camp.
Hamid Hayat and his father, 48-year-old Umer Hayat, were being tried in the courtroom of District Judge Garland Burrell in the California state capital.

Hamid Hayat was charged with one count of providing material support to terrorists and two counts of lying to Federal Bureau of Investigation agents when initially questioned about his alleged six months in an Al Qaeda training camp in 2003 and 2004.
His father was charged with lying to the FBI to cover up the training.