DIL San Francisco's Gala Event Raises Money for Education in Pakistan
By Ras H. Siddiqui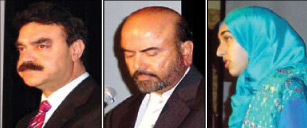 L to R: Dr. Javaid Sheikh, Saeed Malik and Sahar Pirzada
The San Francisco Chapter of Developments in Literacy (DIL) held its annual dinner and fundraiser at the Doubletree Hotel in San Jose, California on Sunday, April 30, 2006. That DIL is also the Urdu language word for "heart" is not accidental here, because over the years the Pakistan-American community has seen a lot of heart and soul put into this effort by volunteers of DIL for raising funds to educate the very poor in our country of origin. And additionally, this is primarily an effort by women to help less fortunate, future women, because this organization has made it a point to target low female literacy rates in Pakistan and is focusing its efforts on educating girl-children in the poorest and most backward areas of the country.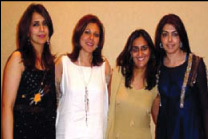 L to R: Asma Sheikh, Lubna Sheikh, Paru Yusuf and Sara Abbasi
That most of the ladies locally involved in this DIL effort are blessed with a certain degree of affluence is no secret, but just communicate with them especially before this fundraiser held every year and you will notice their dedication to the cause. So right off the bat (most of the males attending also love the game of cricket), we need to recognize Sara Abbasi, Lubna, Sheikh, Asma Sheikh, Saira Siddiqi (who could not be here) and Paru Desai Yusuf of the DIL San Francisco Chapter for continuing this annual effort, while we men play our supporting roles (who says Pakistan males cannot follow instructions from females?) Anyway kidding aside, this is one event of the year that the "Who's Who" of the Pakistani-American community in the San Francisco Bay Area just cannot miss.
The program started off when emcee for the evening Dr. Javaid I. Sheikh invited Sahar Pirzada for the customary recitation from the Holy Qur'an.
Dr. Sheikh, who also happens to be a Professor of Psychiatry and Behavioral Sciences at the Stanford University School of Medicine, certainly knows a great deal about anxiety and he did not take too long in putting the 400 or so in attendance at ease. He explained the housekeeping and the agenda for the evening and said that the target was to raise $75,000 during this fundraiser of which $55,000 had already been raised. A raffle and a silent auction of special gifts were also on the cards and last but not least, the envelopes were there at every table for individual contributions. He also thanked the 40 or so volunteers, Platinum Sponsors Bhoomija and Saeed Malik and Roya and Shahid Sheikh, OPEN President Umair Khan, and all the lovely models who volunteered their time to be involved with Hassan Shehryar Yasin's fashion show. Dr. Sheikh had a few more comments to add. "There is no better way to start nation building than to take young girls and educate them," he said.
He gave the example of Sir Syed Ahmad Khan and the Aligarh Muslim University model as an effort to emulate and invited DIL San Francisco's Sara Abbasi to say a few words.
Mrs. Sara Abbasi welcomed and thanked everyone on behalf of the DIL Board. She went into an introduction into the great work that the organization has been doing in various impoverished and educationally underserved areas of Pakistan and wanted everyone to know that the girls there really want to get educated. DIL schools only go up to the 9th grade. "The fact that these girls want to continue their education past the 9th grade is heartening," she said. She also shared a unique experience on a trip to Baluchistan Province. An NGO (Non Governmental Organization) working there with DIL used jeeps to travel around the area to promote female literacy, and one day found one of its jeeps and the people in it forcibly taken away by armed men. Everyone was concerned about their safety till they showed up later to tell their amazing story. It appeared that these armed men had heard that wherever this jeep visits, a girl's school is opened, so they decided to take the jeep and the team to their own village in the hope that such a school will open there too.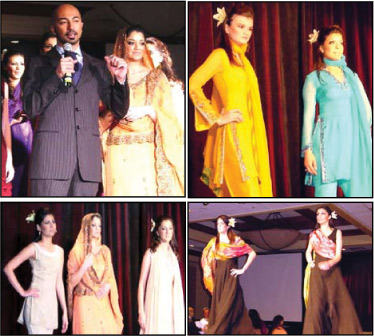 Designer Hassan Shehryar Yasin along with the models who took part in the fashion show
Sara added that DIL was working hard this year in the areas impacted by last October's earthquake in Pakistan. Temporary schools were being set up in areas like Manshera, and a really ambitious effort was underway to get children back to their studies. "Thank you very much for your support," she said.
Dr. Sheikh came back on to the podium quoting the poet Allama Iqbal and proceeded with the showing of a moving video/DVD presentation on DIL's School Activities. Just watching these girls who were determined to get an education was a moving experience. Imagine, if circumstances had been different, these could have been our own children! From the mountains to the plains, DIL schools are certainly making an impact (and God bless them).
Keynote speaker Saeed Malik next addressed the gathering. Chairman and Founding Member of Silicon Turnkey Solutions, Mr. Malik has been described as a "serial entrepreneur" on occasion and has already had a number of business successes here in Silicon Valley. He is an alumnus of the University of Karachi and San Jose State University. But beyond that (as we discovered on this occasion), he can move people with both his sensitivity and eloquence. This was one of the best speeches heard at our community events for quite some time. "This is the night of DIL," he said. He was all praise for this organization that strives to bring the written word to children who would otherwise have been deprived from reading. He spoke of love and passion, quoting from the Pakistani poet Faiz Ahmad Faiz and Lebanon's Khalil Gibran. But it was the picture of the slum outside of Karachi that Mr. Malik painted that was really special. "It is 8:05 AM in Orangi Town in Karachi, Pakistan…." He described the battle for survival there and poor children waking up. "Certainly no clothes to change," he said. "If they live long enough, these children will find the curse of the slum. Life in the slums has very few escape hatches," he added. But he said that miracles do happen but "you cannot win the lottery without first buying a lottery ticket. Miracles do happen to those that are ready for them."
He spoke of the slogan "Learning is wealth for the poor and an ornament for the rich" and a sign pointing to a DIL school. "Miracles tend to happen where there is less rather than more," he said. Mr. Malik spoke of a girl named "Gul Bahar" (the "flower of the spring). "Who says that flowers don't grow in the slums?"
He was full of praise for the efforts being made here. "Thanks to people like you and volunteers of DIL, a miracle is happening at this very moment," he said. "I must congratulate this organization for forging ahead." He closed with a return to where he began. "Teach the child the written word. When you sleep tonight the sun will have risen in Orangi Town…"
The silent auction, raffle and fundraiser took place during and after a fine dinner catered by Mehran Restaurant (the event raised over the target $75,000) after which the grand finale that everyone was waiting for, closed the program.
Fashion designer Hassan Shehryar Yasin is certainly making his mark abroad now since his impressive beginnings in Pakistan. He had for the audience that evening a wide variety of women's clothing that the models were able to gracefully display. He said that he wanted the world to know that Pakistan was a moderate and progressive country and not the extremist place that some may think. His clothing lineup during this presentation was progressive, tasteful but not daring. Hassan is certainly media savvy, projects himself well and his HSY collection certainly speaks a great deal of his abilities.
In conclusion DIL San Francisco now has another big fundraising success to its credit. It certainly was a glamorous evening during which people had a great time and all for a wonderful cause. And for Pakistanis here, it just doesn't get much better than this, because for the cause of education of girl-children, our heart (DIL) beats as one.
-------------------------------------------------------------------------------------