"Because Allah Guided Me" - An Evening with Yusuf Estes
By Tahir Ali
Chairman
WIC Host Committee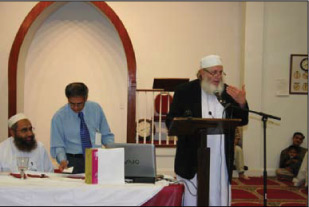 From Left: Imam Hamid Mehmood, Tahir Ali and Sheikh Yusuf Estes
Massachusetts: "NOW, THEREFORE, I, Timothy P. Murray, Mayor of the City of Worcester, do hereby proclaim Saturday, May 6, 2006 to be: WORCESTER ISLAMIC CENTER DAY" – these words from the proclamation read aloud by Farah Baara resonated well among an estimated thousand people who had gathered at the Worcester Islamic Center (WIC) that day.
The event, an interactive session with Yusuf Estes, that was live broadcast over the internet - drew a huge crowd who came from various Islamic Centers in Massachusetts, including New Hampshire, Connecticut and Rhode Island.
The program started on time, with Qira't recited by Imam Hamid Mehmood. Youth participation was encouraging as Sr. Farah Baara and Mazen Ramadan, read the Mayors' proclamation and introduced the keynote speaker, respectively.
Yusuf Estes, a former priest and preacher, who now preaches Islam, enlightened the audience by revealing the amazing tale of how he and his father, both ordained ministers, plus his friend, a Catholic priest, became convinced of the truth of Islam. "About 14 years ago," he said, "I ran into a gentleman from Egypt – when he saw that I was trying to bring him into Christianity. He said, 'I'll go to your religion if your religion is better than my religion'. This will be easy, I told myself: fill up the bathtub and we will dunk him tonight, tomorrow he will be a Christian. But when he added, 'But you got to have proof.' 'But in religion you have only faith,' I argued. The Egyptian replied, 'In Islam we have both, we have faith and we have proof.'"
Estes frequently narrates his "priest story". He acknowledged the fact that the Karachi TV in Pakistan has been broadcasting the "priest story" every Ramadan since 2000 "and if they continue to run it next year, I'll beat 'I love Lucy' – I'll become the 'I love Lucy' of Islam." He added jokingly.
Estes admitted that the more he learned about Islam the closer he got to it. When asked what had led him to embrace Islam, his answer was the same that was given to him when he asked the same question of the thousands of Christians that he himself later converted to Islam: "Because Allah guided me"
According to Estes, Christianity is not anything but Islam deviated. "What is Islam? Who is a Muslim," he asked rhetorically. He went on to explain the usage of 'verb' in English, "In English we put 'er' at the end of the verb, it makes the one doing the action: talk-er, think-er etc. However, in Arabic we put 'mu' in front of the verb: mu- safar, mu-iklas" Then he derived the word Muslim from mu-Islam. "Islam," he said, "means five things: Surrender (we are getting good at that – he added sarcastically), Submit, Obey, Sincerity and Peace."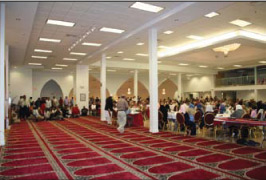 WIC and the audience
Estes noted that Islam was not a new message, and that it is the same message that came with all the prophets. "In the Bible, Gospel of St. Mark Chapter 12, verse 29 – they were asking about Jesus 'Tell us about the big commandment' and he quoted from the Old Testament, 'To know Oh (people of) Israel that your God is one Lord, and you have to worship or love him with all your heart, and all your mind...'" Estes went on, "And it is not really different than the Book of Exodus where the first commandment in the Old Testament states: … you know no other god besides me, beside me there is no other god, thou shalt not have any other god besides me." Estes analyzed for the audience, "Said it in three different ways in the same sentence, and those three are one: No god except God"
A lively question and answer session followed the talk, and Yusuf Estes responded to most of the questions posed to him, although he redirected some of the enquirers to his website for an answer to avoid redundancy. Most of the time, Estes had the crowd jumping up in ovation and to laugh heartedly at his comic remarks.
Toward the end, Mohammed Yousaf of WIC gave an account of the WIC state of affairs, and the evening ended over a scrumptious dinner, yet people were still thirsty and starving for more knowledge out of Imam Yusuf Estes.
The WIC Host Committee comprisses Tahir Ali, Jihad Boura, Saleem Khanani , Imam Hamid Mehmood, Nassar Kabbara, Shameem Ahmed, Rasha Boura, Imad Khreim, Mohammad Mushtaque, Ziad Ramadan, Miraj Ahmed, Iqbal Ali, Maher Taufeeque, Zakir Magdum, Isa Mujahid, Muhammad Ramzan, Siraj Ahmed, Sultan Saadeh, Abdulkeni Zekeria, Ihab Dabbag, Fazal Alam, Ashraf al-Kerem, Jawad Hussain, Joan Pitcher, Farooq Mirza, Aashiq Mian, Hanif Balaparia and numerous volunteers.

-------------------------------------------------------------------------------------