Jaswant Singh's Speech Interrupted at UC Berkeley
A Pakistan Link Report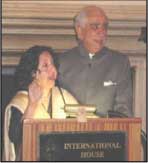 Raka Ray calms protestors as Jaswant Singh looks on
Seven-time member of the Indian Parliament, current leader of the opposition, and former Indian Minister of External Affairs, Jaswant Singh made an interesting appearance at the International House at UC Berkeley on October 26, 2006. The Center for South Asia Studies & International House had arranged a reception in his honor and arranged for him to present his thoughts on the topic of "India and China: The Asian Two" at what promised to be an insightful, academic lecture on the India-China relationship and little more.
But soon after the cocktails were over and as Mr. Singh approached the podium to deliver his lecture to close to a 100 people in the audience, a group of about 40 people, mostly Sikhs and what appeared to be a small group of Muslims, loudly declaring their displeasure, arrived in the hall and stopped the event for more than half an hour.
"You cannot apologize for genocide," was one slogan that was heard along with references to Nazi ideology and targeting of Muslims in the Gujarat carnage which left over two thousand dead under the BJP government's watch.
A part of the group or possibly another party was also expressing displeasure at the planned execution of Mohammed Afzal Guru which it described as an "impending lynching" of a Kashmiri.
On demand, Sikh spokesperson Prabhsharandeep Singh made a speech before Jaswant Singh was allowed to proceed with his own. Many in the audience were irate at the interruption but the former External Affairs Minister and seasoned diplomat kept his composure and even smiled a few times at what was said. The Sikh spokesperson brought up the anti-Sikh massacres in India in 1984, the anti-Muslim carnage of 1992 (Babri Masjid) and 2002 (Gujarat) and had some strong words of criticism for the Indian polity.
Throughout this commotion a great deal of credit needs to be given to Raka Ray, Chairperson at the Berkeley Center of South Asia Studies, for navigating the program through a great deal of turbulence and keeping the freedom of speech reputation that this campus is well known for intact. She certainly was able to salvage the event with her skilful handling of the situation.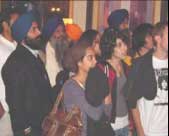 The group of protestors
Mr. Jaswant Singh was able to deliver a shortened version of the speech that he had originally prepared. He started off on the richness of history that the Berkeley campus adds to South Asia. He said that Tagore had once spoken here. He also mentioned another person with whom he admitted having many differences with, namely (former Pakistani Prime Minister) Zulfikar Ali Bhutto who had made his presence felt here. He said that he was thus honored to be here too.
On India-China relations he had a number of recent positives to report in spite of a brief history of turbulence during the mid 20th century. The soft-spoken and articulate diplomat did not appear to be impacted by the commotion preceding his speech and delivered a well received yet brief lecture on the two Asian giants and their emerging economic power.


-------------------------------------------------------------------------------------