Benazir Criticizes Waziristan Peace Treaty
By Ras H. Siddiqui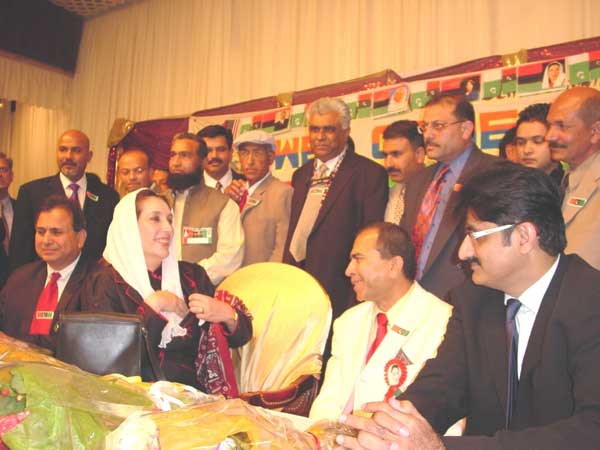 Benazir Bhutto with PPP leaders
Newark, CA: On September 29, 2006, which was also the first Friday of the fasting month of Ramadan, over 500 members of the Pakistani-American community and their friends in the San Francisco Bay region welcomed the former Prime Minister of Pakistan Mrs. Benazir Bhutto during a breaking of the fast (Iftar) at the Chandni Restaurant in Newark.
The meeting and reception were arranged by the Pakistan People's Party (PPP) California and its visibly pleased President Khuda Bux Bhutto took the opportunity to welcome everyone, especially those who came from far away Los Angeles, Seattle and California 's Central Valley. Mrs. Bhutto was in the Western United States on a scheduled speaking engagement the day before in the Reno-Sparks area of Nevada, at the University of Nevada, Reno 's annual Foundation Banquet. She was also scheduled to address the public on October 2 at Mary Baldwin College in Virginia .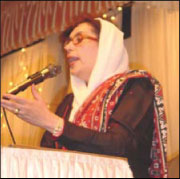 Benazir Bhutto
Mrs. Benazir Bhutto-Zardari has been Prime Minister of Pakistan on two occasions. She is Chairperson of the PPP, the largest political party in that country and if a recent International Republican Institute (IRI) survey is an indicator, she is still the frontrunner to Pakistan's Prime Minister's slot. But that is only possible if General Musharraf holds "free and fair" elections next year in the country.
After several years of suffering as she lost all the male members of her political family one by one, the daughter of Pakistan's most talented political figure Zulfikar Ali Bhutto (whose judicial assassination still haunts the politics of the country) is now living in exile. Benazir is a woman of substance and a leader who cannot be ignored, especially when the post-9/11 War on Terror dominates the globe.
Like her father once did, she waits impatiently as Generals rule Pakistan and usually make a mess of the political landscape. According to some in the Pakistani military, all politicians are crooks, and that automatically gives the Generals the right to rule. Senior PPP leader Yusuf Raza Jilani has been in jail for several years in Pakistan for the crime of "giving people jobs." If that was the case, then Pakistanis either need more like him or most of the adults there should be in jail with him.
Benazir appeared to be in a somber mood at this venue. Either it was the fasting month or just plain fatigue, but she did look a little tired. Maybe it was the presence of former Congressman Pete McCloskey at the gathering and a reminder of a time when mercy petitions were being sent on behalf of her late father that impacted her and many in the audience. Because of Pete's presence she said a few words in English but proceeded to address the audience in Urdu.
She spoke about her own and her party's victimization by the current regime in Pakistan.
She asked how we can go and give assurances to other countries about battling extremism without having our own house in order. She spoke of controversial peace treaties and if 80000 Pakistani Army personnel are in action, why is the world still asking us, "Where is Osama?" Where is the power of our government? She said that the PPP was unhappy with the peace treaty in Waziristan which she stressed is Pakistani territory. The whole world is watching us. If we cannot deal with these militants ourselves then what will become of our country? She said that the people should be (democratically) included in all decision making. She added that our country is being maligned and its image has been tarnished because of these militants and that Pakistanis are being looked upon with suspicion worldwide because of them.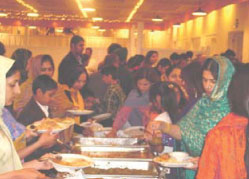 Iftar and dinner at Chandni
Benazir said that many people in Pakistan are still living in misery. She said that the stock market had done well in the country but that most people there did not have the resources to invest in it and that their poverty is increasing. Who will think about those people whose cooking stoves are cold (without fuel) and cannot afford to feed their children? "This is the 21st century. But what bothers me is that children in our country still go to sleep hungry, because their parents don't have jobs or money or even dry pieces of bread to feed them."
She said that when the PPP was in power 60% of our earnings were going into debt servicing. We should use our current influx of cash towards debt servicing and health, education and sanitation, she said. She spoke about power outages that have become the norm in the country, increased unemployment is a problem and according to the latest Transparency International figures, corruption is more of a problem in Pakistan now (under the military government) than it was under democratic-civilian rule.
Benazir thanked the people for coming as the breaking of the fast approached. She said that when she returns to Pakistan and joins the people already fighting for democracy there, she will need the help of Pakistani-Americans who live in a democracy to bring the same to Pakistan. "We will succeed together inshallah (God Willing)," she said.
On General Musharraf's recent book, launched on September 25th she said that someone asked her to comment. She said that she could not oblige or say something that will promote a book that contains an inaccurate account of Zulfikar Ali Bhutto.
And now a bit more detail as to why Benazir Bhutto is important to the world today. Since General Musharraf appears to have the backing of President George W. Bush as they hunt for the Al Qaeda and the Taliban together, any novice can make the following observation: The War on Terror is not going well on the Afghanistan-Pakistan border.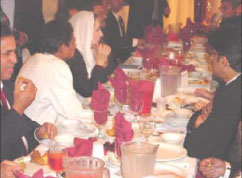 Benazir and party members have iftar together
Osama is still on the run and the Taliban remain a force to contend with. General Musharraf has survived two assassination attempts that we know of. He is an un-elected leader with dubious democratic credentials, but thankfully a secular bend. What is worrying are the alliances that he has made with right-wing religious parties in Pakistan and his continued aversion to making deals with the democratic opposition. And in the precarious position that Pakistan finds itself in today, it appears that it is General Musharraf who needs Benazir Bhutto's political support today much more than Benazir Bhutto needs his.
The Pakistan Peoples Party remains the largest secular democratic force in the country, which can counter extremism within the people because it is a part of the people. And if Presidents Bush and Musharraf want to win this war, they should be asking Benazir Bhutto to return to Pakistan to give this fight the democratic edge that it needs before the General becomes even more isolated for being too close to Washington .
Since Benazir would not comment on General Musharraf's book "In the Line of Fire" maybe I could offer an opinion on it later after I finish reading Husain Haqqani's book "Pakistan: Between Mosque and Military." And as in the past I will continue to keep that invitation open to Benazir Bhutto to visit Sacramento and to share a meal with us.
-------------------------------------------------------------------------------------