President's Book Ruffles Feathers in US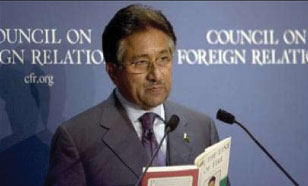 Washington, DC: President Pervez Musharraf's book, 'In the Line of Fire', breaks sharply with the political tradition of not publishing a memoir while still in power and has ruffled many feathers, particularly in the United States.
The tell-all memoir exposes how the US made Pakistan fall in line after the Sept 11 terrorist attacks, paid bounties for capturing Al-Qaeda terrorists and gives an account of the 1999 Kargil conflict that has angered India.
The first reaction to the claims made in the book came from the former US Deputy Secretary of State Richard Armitage who said he had never threatened that Pakistan would be bombed.
Commenting on the book, Walter Andersen, a former top South Asia specialist at the State Department who now teaches at Johns Hopkins University's Paul H. Nitze School of Advanced International Studies, told Washington Times: "It's a highly unusual thing for a sitting head of state to do, but it isn't totally out of character for Mr Musharraf."
"He's cultivated a reputation for blunt talk, for being a military man who's not afraid to be frank," said Mr Andersen. "I'm sure his publishers love it, although I imagine there are some people in his own foreign ministry and intelligence service who are staying up late these days."
Mr Andersen said the book's contents would probably prove 'irritating' for the governments involved, including Pakistan itself, but said it was unlikely to have a major impact on the Musharraf government's relations with its key partners, including the US, India and Afghanistan.
Some US newspapers pointed out that it also earned a unique televised endorsement from President Bush. Mr Bush made his semi-serious endorsement at a press briefing in which Gen Musharraf deflected reporters' questions by saying he was pledged to New York publisher Simon & Schuster not to reveal details of the manuscript before official release date. "In other words, 'buy the book' is what he's saying," Mr Bush quipped.
"Musharraf courts fame, controversy with memoir," says a report published in The Washington Post.

-------------------------------------------------------------------------------------