The Boston Contribution to the Quake Relief Effort
By Fauzia Wali Khan, MD
Staff Psychiatrist
St. Elizabeth's Medical Center, Boston
Asst. Professor of Clinical Psychiatry
Tufts University School of Medicine

Jawad Ahmad gives a memorable performance in Boston
Natural disasters have a cynical side to them. Who could have ever thought that Pakistani physicians of diverse backgrounds, separated from their country of origin for almost two decades; immersed in their new homeland, building there lives would suddenly galvanize and undertake an effort to help out in the relief effort in earthquake struck Pakistan.
Such is this story, of a small community of physicians in Boston, Massachusetts. After the earthquake of 2005, the immediate response of most Pakistani's in the US was a sense of personal loss, shock, and a soul searching personal dialogue with Allah.
In the initial phases of the relief effort it became obvious from the news from Pakistan; that the earthquake devastation was catastrophic and no nation however industrialized could manage a disaster relief of this magnitude. Lack of emergency planning, logistical and geographical issues; have since been debated endlessly. The absence of life saving equipment and knowhow of organized disaster relief effort was apparent. In some cases the destruction was complete, annihilating entire towns and villages. The approaching winter added insult to injury. The health care system was completely destroyed in Muzaffarabad with the destruction of the military hospital and two major civil hospitals. These three hospitals lost 34 nurses and 18 doctors at a tertiary care level, compounded by complete destruction of health care system at a primary care level in several valleys.
One such hospital that was partially destroyed was Ayub teaching hospital in Abbotabad. This is a tertiary care facility catering to a population of about 2.5 to 3 million people, providing tertiary care to patients from places such as Mansehra, Balakot, Batagaram, and Alai etc. After the quake it was the only large surviving facility in the Northern areas and it received causalities from places as far as the Kashmir valley. This hospital saw major injuries in the aftermath of the earthquake and in the first several weeks catered to almost 7000 patients per day. In the first few days of the disaster, the hospital used up all its paper supply; such that records were kept by writing on patients arms.
It was here in Abbottabad, that the foundation of Pakistan's first privately run Disaster Management Center was envisioned.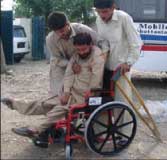 Wheelchairs arranged by APPNE in use
The Association of Pakistani Physicians of New England (APPNE) is the local chapter of the larger Association of physicians of Pakistani decent of North America. (APPNA) Many of its members are from the northern areas; and like its parent organization, the initial phases of the relief effort was mostly for medications, surgical equipment, shelter, food supplies and clothing of the 2.5 to 3 million people suddenly rendered homeless.
APPNE recognized early on that what ever relief effort was to be undertaken had to be a collaboration between organizations with funds, supplies and equipment and most importantly a reliable, indigenous physician group that could undertake the ,facilitation, implementation and delivery of the relief supplies we were to donate. Doctors who had grown up in Abbottabad/ Mansehra region were able to identify a small group on the ground called Abbottonian Medical Assoc. It was run by a local Abbbottabad physician Dr. Nouman Siddiqui, a pathologist at Ayub Teaching Hospital, his team had been providing basic health care services, medical camps and the Thallesemia program for a number of years.. Dr. Nouman Siddiqui and his alliance with the Hussaini Blood Bank and Altaf Nazim of Karachi had already supported a steady supply of emergency blood and blood products for acute trauma victims. Their reputation, credibility and most importantly the steady stream of volunteers consisting of staff and students, from local colleges was considered an invaluable partner.
Here was a nation of volunteers, all of whom had been affected by the quake, willingly and tirelessly ready to assist and assume the role of caregivers on the ground.
From the beginning it became clear to APPNE physicians that disaster management and preparedness was the only long-term solution to preventing major loss of life and injury in the initial phase of a disaster. This was a 'needs assessment emergency preparedness model' we learnt from the world famous Disaster Emergency Response Team at the Mass General Hospital.
Dr. Susan Briggs and her Emergency Disaster Response team having recently returned from the Hurricane Katrina tragedy were instrumental in guiding APPNE's vision of developing a self-sustaining, self-perpetuating setup that would eventually; not be donation dependant … a lesson we Pakistani-American physicians have learned from our American way of life and years of practice in this wonderful country.to help, assist, create, enable and empower people and not to disable or create dependency .
Our efforts as a team and as Individual physicians; living, contributing and providing quality healthcare and training as valuable members of local American communities made community outreach here in the Boston area all the more meaningful. and the tremendous American response even more gratifying.. and rewarding.
In the first four months after the disaster, over two hundred thousand dollars were raised through the help of fundraisers. This effort involved collaboration with organizations such as The Massachusetts Medical Society, Indian Medical Association of New England (IMANE), Abbottonian Old Boys Association of North America and several private donors. Funds were also raised through local mosques, Islamic centers, churches and small businesses. These funds were utilized to purchase two fully equipped state of the art Lifecare ambulances that were used in multiple air rescue missions with the Pakistan Army.
Data collection equipment (laptop computers, storage devices, cameras, and projectors), tents and vaccines etc. thanks to the years of research training skills of Nadeem Afridi, MD, PhD, enabled our disaster management team of Dr. Nouman; a skilled photographer, to document, tabulate and record data of every individual life passing thru their treatment centers.
In the initial phase of the disaster there was a dearth of qualified doctors in the field. New England area physicians, entirely self-funded went over in groups to work there Boston area anesthesiologists, surgeons, internists, cardiologists, oncologists, psychiatrists and neurologists were also an invaluable source of feed back to APPNE in directing its response to disaster relief.
To obtain surgical equipment for orthopedic, head and spinal injuries, APPNE collaborated with several hospitals including Massachusetts General Hospital, St. Elizabeth's Medical Center, Holy Family Hosp, Anna Jacques Hospital and others who donated drills, artificial hips, pins, screws, walking sticks, crutches, and splints etc for the injured. These were immediately used by a team of orthopedic surgeons from England working on site in Abbottabad.
Transportation of large air and sea shipments to Pakistan was facilitated with the help of Pakistani consulates here in Boston and New York and the Pakistan International Airlines.
APPNE physicians Drs.Zahra and Saad Ayub collaborated with Direct Relief (an international aid organization) which donated one million dollars worth of medications including antibiotics and vaccines. Glaxo Labs also donated several thousand dollars worth of antibiotics.
Through a matching grant from Rotary Club APPNE was able to buy 100 wheel chairs from Wheel Chair Foundation. The amazing thing is that the Foundation tripled the wheel chairs to 300 (at no cost) once they found out that they would be donated to the injured and amputees from the earthquake.
The most notable achievement of APPNE is the establishment of the Disaster Management Center in Abbottabad. Please check it out on www.dmcrelief.com This was a need that should have been met long time ago since this entire region sits on at least three tectonic plates making it extremely vulnerable to earthquake related disaster.
This center was finally set up through a 250 thousand dollars grant from Direct relief. This center is located in Abbottabad next to Ayub teaching hospital and run by 5 fully paid staff. It has its own ware house, and vocational center for women who have lost their husbands. It has its audiovisual room and data base site.
During APPNE physicians initial visits to disaster areas two schools for the disabled were identified for extending support. The Lighthouse School for Blind caters to blind girls aged 7 to 19. The other was the Kingston School for Disabled Boys . My small-scale project involved collaboration with the world famous Perkins School for the Blind in Massachusetts and Carroll School for the Blind to provide equipment.
The other project I have set up is the Basic Life Support BLS and CPR project whereby teaching tools, BLS course equipment, instructional DVDs mannequins, umbo bags were taken and handed over to Dr. Nouman and his team. He has been educating the local and far outreaching areas in basic cpr and life-support techniques… I hope others will share in funding other BLS teaching tools ..
One project that required extensive background work that our APPNE President Drs. Naheed and Hassan Usmani, undertook was the medical and dental student scholarship program. Several students at the Ayub Medical and Dental College lost their parents and earning members of their family and would have dropped out because of the tuition expenses. A scholarship fund was created through which the affected students would have their tuition paid off for a duration of 4 years. First 20 scholarships have already been given.
One very ambitious project that APPNE has undertaken is that of reequipping the Ayub teaching hospital that was ravaged by the earthquake. IMEC (International Medical Equipment Collaborative) a non-profit organization collects unused hospital supplies, equipment, X-ray machines, surgical tables etc and donates them to developing countries. The only cost they charge is the transportation expenses. Through the help of local American groups and matching grants from Rotary club, four departments at Ayub teaching hospital are being completely renovated and refurbished. The total value of this equipment is about a million dollars. The departments that will benefit include OBGYN, pediatrics, emergency room and critical care unit. Our first shipment is due in November 2006 Local Rotary clubs, Friendsforever.org are helping in putting this shipment together.
APPNE's mission and strivings have been inspired by the words "Allah mere dil kay ander" - "God is within my heart" – of Jawad Ahmad, famous Pakistani singer. Marking the upcoming one year earthquake anniversary Jawad flew in last month for a fundraiser for APPNE and his own Taaleemforalltrust.
This amazing , multi-talented young man graciously decided not to compete with APPNE donors and instead spoke humbly and briefly about his own earthquake relief work for which he has received the sitara-esar from the Pakistan Govt. The physicians of Boston wish to acknowledge his emotional maturity.
APPNE achieved its financial support that evening; but it was Jawad's sincerity and unassuming charisma that got the biggest donation - love, respect and national pride. That September evening Jawad sang his heart out for the earthquake survivors and zestful rescue groups and people like Dr. Nouman Siddiqui and his team of unsung heroes.


-------------------------------------------------------------------------------------