$40 Million Canadian Aid for Pakistan: Soomro
A Pakistan Link Report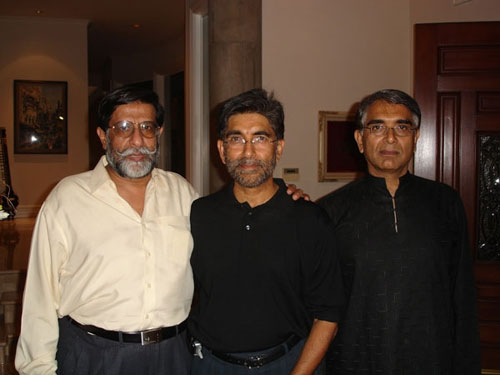 Left to right: Pakistan Senate Chairman Mohammadmian Soomro, Safi Qureshey and Wasi Qureshey
Tustin, CA: Canada is to give $40 million aid to Pakistan for the rescue and rehabilitation of the October 8 2005 earthquake victims. This was disclosed by Senate Chairman Mohammadmian Soomro in an interview with Pakistan Link at the residence of leading IT entrepreneur Mr. Safi Qureshey, CEO of Quartics, Inc., who has recently won accolades for his pioneering role in the ongoing PC-to-TV Revolution.
Mr. Soomro appeared in a buoyant mood as he shared impressions of his visit to Canada and the US. He met high-ranking government officials in both countries, including US Attorney General, Secretary Commerce, Secretary of State for Public Diplomacy and Public Affairs, interfaith groups, and prominent Pakistani-American
groups.
The discussions with the Canadian and US officials focused primarily on interfaith dialogue, Pakistan's role in the war on terror, liberal grant of visa to Pakistani students, withdrawal of travel advisory against visiting Pakistan, and knotty immigration problems confronting Pakistani settlers in Canada and the US. He exhorted concerned officials to encourage people of Canadian and US origin to visit Pakistan in greater number so that the country's fledgling tourism industry could receive a much-needed boost. Mr. Soomro appeared optimistic that if visiting students from the US and Canada could stay with families in Pakistan for extended periods, misperceptions about the country that continue to linger could be effectively dispelled.
Later, addressing members of the Pakistani-American community present at Mr. Safi Qureshey's residence, the Senate Chairman observed, "You are the bridge between Pakistan and the US. Each one of you is an ambassador of the country." He paid tributes to the Pakistanis who have made the United States their home and have "made their mark in various fields." He urged community members to visit Pakistan more frequently, invest in various uplift ventures, and play an active role in strengthening the country's economy. He commended several Pakistani-American organizations, including APPNA, HDF, SQF, DIL, at al. for their role in improving the lot of under-privileged Pakistanis living in the rural areas of Pakistan.
Mr. Soomro proudly described the Pakistani society as both tolerant and moderate. He specifically mentioned the post-Gujrat-carnage conditions in the year 2002 when the Hindu minority in Pakistan lived without fear of any reprisal from the Muslim majority.
Concluding his speech, Mr. Soomro thanked Mr. Safi Qureshey, Major (Retd.) Wasi Qureshey, Shahid Rokerya, and Dr Nazir Khaja and their families for the hospitality extended to him during his stay in Los Angeles.
Speaking on the occasion, eminent religious scholar Dr Muzammil Siddiqi urged the community members to have more interfaith contacts to convey the true message of Islam to mainstream Americans. He mentioned the 'open mosque day' initiative initiated recently to facilitate the visit of hundreds of non-Muslim Americans to mosques and Islamic centers across the length and breadth of the US. He lauded President Musharraf's concept of enlightened moderation and said it should be implemented in earnest, both at the philosophical and practical levels.
In his welcome remarks, Mr. Safi Qureshey paid tributes to Mr. Soomro for "his humility and values." Today is "a special day, and we have very special people here," he remarked. By his deportment and demeanor, Mr. Soomro did appear a very special individual.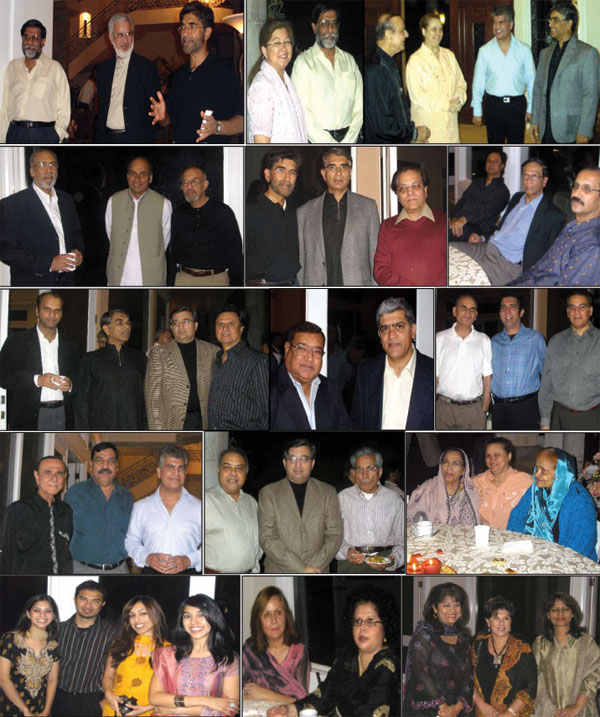 Pictures above were taken at the dinner hosted by Mr. and Mrs. Safi Qureshey in honor of Pakistan Senate Chairman Mohammadmian Soomro at their Tustin residence on Sunday, October 22 2006.
-------------------------------------------------------------------------------------