A Rare Show of Love for Pakistan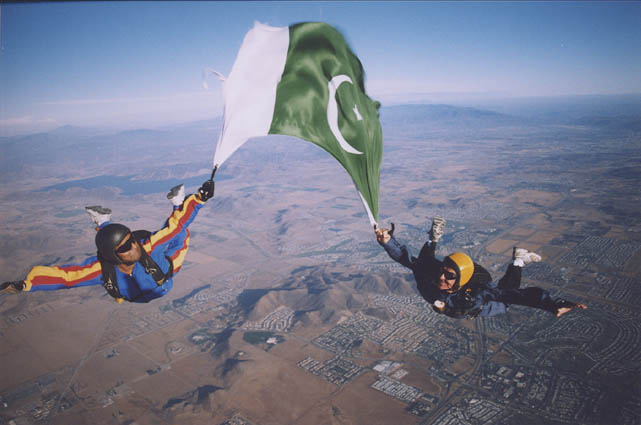 Kashif Zafar (left) with Jim Wallas
Los Angeles, CA: Pakistani skydiver Kashif Zafar who hails from Karachi celebrated the country's 59th independence Day by parachuting with the Pakistani flag at Perris Valley Skydiving Center, Los Angeles, CA. The jumps were made with Jim Wallace and two photographers. Jim is the most experienced jumper with the current world record of more than 300 Accelerated Free Fall hours from more than 20,000 jumps in the past 30 years of his skydiving career.
Kashif Zafar has been in this sport for three years and currently holds the USPA class C license. Kashif disclosed that "several repairs to the flag were made in order for it to hold still in the free fall with the gusting wind of 140 miles per hour. The skydive Perris were amazed by the quality of the flag material which survived the free fall. Normal damage was done by the wind during the later part of the free fall. Regardless of stiff ground winds and unusual turbulence between 2500 to 1500 feet above ground level, this team was determined to express their emotions and attachment to Pakistan."
Kashif exited from a twin-engine Gypsy 20 Twin Otter turboprop plane traveling at 120 mph at an altitude of 13,000 feet. The jump was made in the company of 3 divers, two of whom had cameras attached to their helmets. "It was an honor indeed to raise the Pakistani flag as a gift to a greatest nation in the world on its Independence Day," said Kashif Zafar. Several hundred people witnessed the event.

-------------------------------------------------------------------------------------