Colonel Amjad Sayed Honored in Washington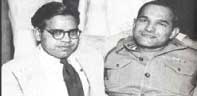 When we were young: Colonel Amjad Sayed with the late Hameed Nizami
Washington, DC: Veteran Pakistan Movement activist and pre-Partition Islamia College, Lahore student leader, Col. (Retd.) Amjad Hussain Sayed, was awarded with a plaque to honor his meritorious services.
This was done during Pakistan Day Festival celebrations in Washington, before a gathering of cheering thousands. The award was given by Pakistan Ambassador to the US, Mahmud Ali Durrani, and was accepted on behalf of Col. Amjad H. Sayed by his son, Pakistan Link columnist, Mowahid Hussain Shah.
During the Golden Jubilee of Pakistan's creation in August 1997, Col. Amjad was also awarded a Gold Medal by the Prime Minister of Pakistan for his activism during the Pakistan Movement.
Col. Amjad remains the last living delegate to the historic Muslim League Session, which took place nearly 70 years ago in October 1937 at Lucknow – which set the stage for the launching of the Pakistan Movement.
Col. Amjad participated in this momentous event along with his close friend, the late Hameed Nizami, founding Editor of the Nawa-i-Waqt. They were both chosen by Allama Iqbal.
During the Sukarno era, Col. Amjad Sayed served as Pakistan's Defense Attaché at Jakarta, Indonesia, receiving from President Ahmed Sukarno, Indonesia's highest award, Bintang Dharma.

-------------------------------------------------------------------------------------