Independence Rhymes
By A H. Cemendtaur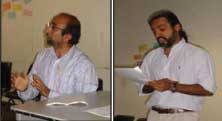 Left to right: Moazzam Sheikh and Saqib Mausoof
Freedom is a powerful concept, the idea of becoming free a luring proposition. There are only a handful of countries that don't celebrate their 'Independence Days', all others do for getting their independence mostly from the few that don't.
This year Friends of South Asia (FOSA, www.friendsofsouthasia.org), a Bay Area organization of Indians and Pakistanis, merged its tradition of celebrating joint India-Pakistan independence (from their common colonial masters) with the tradition of holding an annual South Asian literary evening.
The theme of 59th Independence Day literary evening held at Milpitas Library Community Room on August 19 was 'Asymmetric world, asymmetric wars.' Roshni Rustomji an eminent Bay Area writer raised in Karachi, Bombay, and Beirut, moderated the literary evening.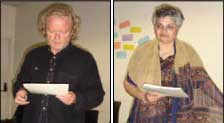 Left to right: Paul Mckenzie and Jyotsna Sanzigri
A FOSA representative opened up the session giving a history of FOSA's South Asian Literary Evening program. The audience was told that the idea of arranging annual South Asian literary evenings was perceived to encourage Bay Area writers who write in any of the native South Asian languages. Initially the thought was to accept submissions in all South Asian languages except English because English writers do get other opportunities to showcase their work.
But then English was included in the list of acceptable languages just because English has a strong presence in South Asia and many South Asians think and express themselves in English alone. The audience was told that the native South Asian language submissions to FOSA had been dropping and in the third annual literary evening there was only one, all others were in English — and that that was the kind of asymmetry the writers were expected to reflect upon.
Almost a month before the program FOSA sent a call for submissions to various organizations and online lists of writers. As submissions started coming in a review committee comprising of Anu Mandavilli (FOSA's president), Ijaz Syed, and Roshni Rustomji was formed.
The review committee went through the submissions and selected ten pieces to be read in the program. A classy poster, created by Samir Shaikh, with three pictures of asymmetry (little Palestinian kid throwing stone at an Israeli tank, empty water jars besides a dry faucet with a soft drink billboard in the background, and sprawling shanty towns around sky scrappers) was floated over the Internet to publicize the event. Ramkumar Sridharan with help from Shalini Gera and Abira Ashfaq created a handbill that provided biographical accounts of writers reading their works in FOSA's literary evening.
The literary session started with Roshni Rustomji reading her touching memoir in reaction to news about wars, bloodshed, mayhem, and displaced people. Her reading was dotted by pauses when she was overwhelmed by emotions.
Jyotsna Sanzgiri a journalist, novelist poet, who lives and works in Mumbai and San Francisco, read her poem "Mourning"— the poem powerfully conveyed the suffering of victims of violence.
Amina K Khan, a writer and poet born in Multan and raised in Lahore currently lives near Washington DC. Her submission "Protectors of Faith" was read by Abira Ashfaq.
Doug Mackenzie an attorney who calls himself an anarchist and doesn't like seeing his tax money channeled to fund wars all over the world, read poems titled "And here we thought we weren't responsible", "I resolve to love", and "Power, authority and obedience."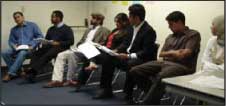 Playwright Wajahat Ali with his troupe
It was around that time that young writer Wajahat Ali whose maiden play 'Domestic Crusaders' earned accolades from critics, showed up. Wajahat along with a troupe of actors did a staged reading of parts of a new play he has recently completed writing. The part of the play staged for the audience satirized a TV talk show hosted by one Bull O'Reilly; the guests include a lesbian Muslim writer finding everything wrong with Islam, a male Muslim writer of similar persuasion whose last name has the "die" suffix, a Mexican-American repeatedly exhorting immigrants to assimilate, and an advocate of civil liberties who is frequently shouted upon and silenced by the host.
Wajahat Ali is a talented writer with a special gift for creating portmanteaux. Anyone looking for fresh witty voices in satire should definitely keep an eye on this young man.
Saleem Peeradina, a poet of repute, is associate professor of English at Siena Heights University in Michigan. Peeradina's four poems carrying strong images, were read by Ijaz Syed - the most powerful image presented in "Split Frame", of a starved woman and her child watching an eating contest on TV.
Moazzam Sheikh a San Francisco based writer known for his English translation of Intizar Hussain's work, read a short story titled "Rosa." Rosa is a Mexican woman who goes through life and many romantic relationships till she meets Butt, an illegal Pakistani immigrant working at a restaurant in San Francisco. Their carnal relationship gets jolted by the historic event now remembered as a three digit number, 911. Sheikh's story has a strong potential to become a good screenplay — a love story woven around a tragic event - with ample opportunities of love scenes.
Saqib Mausoof a writer, actor, and filmmaker read his memoir "Travel in times of terror" written during his recent trip to London. Mausoof's writing was a thoughtful reflection of a man making sense of today's warring world, and seeking his place in it.
Acclaimed San Francisco poet, performer, playwright and educator Genny Lim had sent her poem "The Ordinary Man" to FOSA, but could not come to the program.
Another no-show was Sandhya Sood, an activist, poet, and performing artist born in East Africa and now living in the Bay Area. The organizers decided to use the saved-up time to listen to other writers present in the audience. KRS Murthy used the opportunity to read his poem in English; Maheen Adamson read a prose poem in Urdu.

-------------------------------------------------------------------------------------