Dard and Sauda Remembered in Milpitas
By A.H. Cemendtaur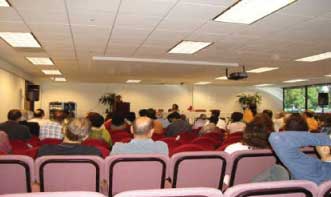 A view of the literary meeting
When it comes to arranging Urdu poetry programs in the Bay Area it is hard to beat the dedication of Hamida Chopra. Whereas other organizers hold poetry sessions in which living poets read their works, Hamida Chopra concentrates on the works of master poets. And when poetry - often forgotten - of these late poets is read it serves the important function of educating the younger generation and providing a continuity between the past and the present.
Recently a program called Guldasta-e-Ghazal celebrating poetry of Khwaja Mir Dard and Mirza Mohammad Rafi Sauda was arranged in Milpitas.
The evening started with Hamida Chopra reading a Hamd (praise of God) by Dard: "Arz-o-sama kahaaN Teri wus'at ko pa sake//Mera hi dil hai wo ke jahaaN Tu sama sake."
Unfortunately, this reporter could only sit through the initial part of the program listening to Atiya Hai sing two ghazals (Qatl-e-Ashiq kisi mAshooq sai kuch door na tha, and ghar to donoN pass haiN laikin mulaqataiN kahaN), Madhuwanti Mirashi sing "Chaman main subah yeh kehti thi ho ker chashm-e- ter shabnam" and Hamida Chopra reading a biographical account of Dard.
The organizers have provided the following details. Session on Dard's poetry ended after Anil Chopra read selected verses and Bani Virk read a ghazal. Tashie Zaheer started the next session by reading an account of Sauda's life and poetry. Ashish Joshi, Tehmida Haidry, Saeed Kazmi, and Anupama Chandratreya read their selections, while Mehnaz Naqvi read an article on Sauda.

-------------------------------------------------------------------------------------