CAIR-LA Holds Press Conference to Commemorate
9/11 Anniversary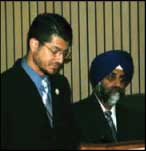 Hussam Ayloush addresses the press conference
Los Angeles, CA: On Thursday, September 7 the Southern California office of the Council on American-Islamic Relations held a press conference to commemorate the fifth anniversary of Sept. 11 attacks and to offer messages of hope, peace and unity.
The press conference included members of various law enforcement agencies and inter-faith leaders who stood in solidarity with the Muslim, Arab, and Sikh Americans, and spoke out against targeting any one group. Community leaders also voiced support for building bridges of understanding, fostering cooperation and harmony among Americans.
"American Muslims today are more committed than ever in playing their role in bringing all Americans together," said Hussam Ayloush, executive director of CAIR-LA. "The attacks on Sept. 11 were an attack on all of us, regardless of our ethnicity, religion or background...We owe it to the victims of 9/11, their families and our country, to promote the American values of peace, unity and tolerance."
Father Chris Ponnet, with the Catholic Archdiocese of Los Angeles, denounced meeting violence with violence. He called upon "preachers of all the traditions of faith as they enter their pulpit this weekend to not use this moment to speak of hatred and division but to speak of the profoundness of our traditions of faith..."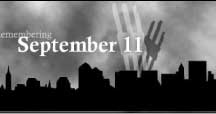 A Los Angeles County Sheriff's Department representative spoke of the creation of the Muslim American Homeland Security Congress to reach out to all to help understand American Muslims and Arabs and help prevent terrorism. "It takes all people that live in our communities to be aware and share information, so we can respond and prevent acts of occurrence," said Commander Michael Grossman with Sheriff's Department's Office of Homeland Security.
Special Agent In-charge Warren Bamford with the Federal Bureau of Investigation said, "Dialogue is the key to our success to protect this nation" and discussed the Multicultural Advisory Committee the FBI set up in partnership with Muslim, Arab and Sikh organizations to foster better understanding and relations with those communities.
Rabbi Haim Beliak, a member of the Interfaith Communities United for Peace and Justice, talked about commonalities between Jews and Muslims, his involvement with inter-religious dialogue, and misuse of offensive words such as "Islamofascist" in attempts to name the enemy.
"I look forward to a different future for us in Los Angeles, and in this country, where Muslims, Jews, Christians and Sikhs and people of all faiths will discover their commonality," Beliak said.
Other speakers at the press conference were: Jim McDonnell, chief of staff for the Los Angeles Police Department and Chief William Bratton; Edina Lekovic, communications director of Muslim Public Affairs Council; and Sarbjit Singh, teacher and former general secretary of Los Angeles Sikh Temple.
The press conference was covered by various television, radio, print and ethnic media outlets.
-------------------------------------------------------------------------------------