NetSol Chairman Rings Closing Bell at NASDAQ
Najeeb Ghauri, Chairman of NetSol Technologies, Inc., rings The NASDAQ Stock Market Closing Bell
Calabasas, CA: Mr. Najeeb U. Ghauri, Chairman, NetSol Technologies, Inc, rang The NASDAQ Stock Market Closing Bell in New York on September 13, 2006, along with John McCue, the company's CEO of US operations.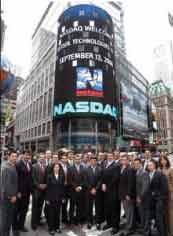 A memorable day for Najeeb Ghauri
Netsol thus joined the league of ringing closing bell at the Nasdaq stock exchange in NY. Mr Ghauri is the second Pakistani to ring the bell on a major US stock exchange. The first was PM Shaukat Aziz early 2006. The following networks carried the Closing Bell: Bloomberg, Bloomberg Brazil, CNBC, CNBC Asia, CNN International, CNN Pipeline, New Tang Dynasty TV, and Report on Business Canada."This is a historical event and I am thankful to Almighty Allah," said Ghauri.
"NetSol is proud to have been listed on NASDAQ for the last seven years and be counted among some of the world's most prestigious companies in the technology sector," said Ghauri. "Our goal has been to build an exemplary company for our customers, shareholders and employees. We look forward to continuing to drive our customers' success, provide shareholder value and attract and retain performance-oriented employees."
Photographs of the ceremony are available for viewing online at Nasdaq.com, under the section entitled At MarketSite.
Founded in 1997 by Najeeb U. Ghauri, Naeem Ghauri, NetSol Technologies Chief Executive Officer, and Salim Ghauri, NetSol's President, NetSol has grown to over 500 employees with offices in the US, Europe, China, Australia, Canada and Pakistan.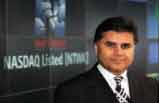 NetSol Technologies helps its clients identify, evaluate and implement technology solutions to meet their strategic business challenges and maximize their bottom line. By utilizing its worldwide resources, NetSol Technologies delivers high-quality, cost-effective equipment finance portfolio management solutions and IT services ranging from consulting and application development to systems integration and outsourcing. NetSol Technologies' commitment to quality is demonstrated by its achievement of both ISO 9001 and SEI (Software Engineering Institute) CMMl (Capability Maturity Model) Level 5 assessment. For more information, visit NetSol Technologies' web site at www.netsoltek.com.
-------------------------------------------------------------------------------------