Khalid Khaja and Asifa Nishat Honored
A Pakistan Link Report

Left to right: Consul General Syed Ibne Abbas, Asifa Nishat, Khalid Khaja and Irfan Murtaza
The Urdu literary groups in the Los Angeles area vividly testify to the creative impulse of the community. An ocean and a continent away from Pakistan, they work strenuously to produce masterpieces and excel in the role of poets, critics, novelists and short story writers. No wonder, their work is critiqued and duly applauded.
Recently, the Urdu Writers Society honored two outstanding literati – Khalid Khaja and Asifa Nishat – for their literary contributions at the Shahnawaz Restaurant in Lakewood.
Khalid Khaja, in the words of Link's leading columnist Arif Hussaini "needs no introduction; for, he is undoubtedly a bright star in the firmament of Urdu literature of North America." Based in Southern California, Khalid is quite well known among Urdu societies and literati throughout North America. "… As a poet, he cannot be fitted into any of the traditional slots. He is not a romantic poet like Jigar or his own mentor, Faraz; he is not a pessimist like Mir or Fani; he is not a revolutionary like Faiz or Makhdoom; he is not a philosopher like Iqbal or Rumi, although one notices glimpses of all these facets in his poetry. He is a thoughtful writer with thought-provoking verses. …"

Left to right: Nayyar Jehan Apa, Hadi Raza Khan, Arif Mansuri and Mohammad Kalam
Mr. Hussaini has also reviewed the work of Asifa Nishat. He feels: "All poets are thinkers, as each poetic composition is essentially the expression of an idea taking form in the mind of the poet. The difference in the case of Asifa Nishat is that she is no just an ordinary thinker but a deep thinker. Poetry in her case serves as a mere vehicle to communicate her ideas. It is perhaps for this reason that she has adopted the format of free verse…"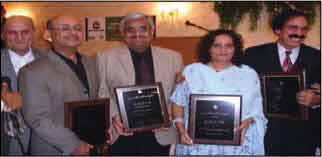 The award winners
The two enterprising literati received accolades by leading poets and writers at the literary gathering. Irfan Murtaza and Nayyar Jahan Apa presented a critical evaluation of the work of Asifa Nishat and Khalid Khaja respectively. Asadullah Hussaini Chakkar also reviewed their literary genius.
The proceedings were divided into two sessions. The first session was presided over by Hadi Raza Khan and the second by Shamim Rijz.
Hadi Sahib and his wife presented bouquets to Khalid Khaja and Asifa Nishat. The two literati were also presented presents and bouquets by Iqbal Shahnawaz and Bilal Qamar.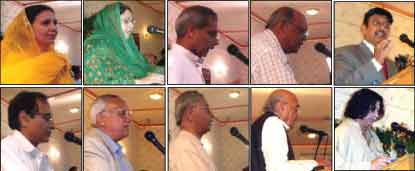 Above: Poets who participated in the mushaira are seen presenting their kalam
Arif Mansuri, Vice President of the Urdu Writers Society, furnished an overview of the Society's activities and suggested that its facilities for learning Urdu must be utilized to the full by the community, particularly children. CEO Mohammad Kalam thanked the guests for their participation in the program.
Consul General Syed Ibne Abbas who was the chief guest applauded the Urdu Writers Society for promoting the cause of Urdu in the US. He also presented Asif Syed, Hadi Raza Khan, Farrukh Zia (Angeles Steel) and Saad Shafi (Habib American Bank) with awards.
Awards were also given to Khalid Khaja and Asifa Nishat.
The Shahnawaz Restaurant food, as usual, was of an exquisite quality and thoroughly enjoyed by the guests.

-------------------------------------------------------------------------------------